Barbecue Marinated Grilled Chicken
By mohamed ka7ka • July 16, 2015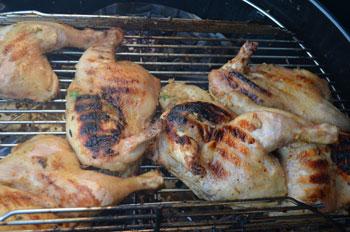 Simple recipes do go a long way! This is one simple chicken marinade that makes sure your barbecued chicken will taste amazing and have your family and friends coming back for more.
From the article 'Inspiration for the Long-Awaited Summer Barbecue' with Kahka.
Ingredients
2

chicken (halved) - دجاج

1 kg

onion (shredded) - بصلة

1/2 cup

olive oil - زيت زيتون

4

lime - ليمون بلدي

salt and pepper - ملح و فلفل
Step by step
Mix the marinade well then rub it into the chicken, cover and put in the fridge to marinate overnight.
Prepare the barbecue by lighting the coal on the stove then transferring it tot he grill. Let it burn for up to an hour to make sure the heat is consistent through all the coal.
Place your marinated chicken bottom down on the grill. Change the chicken every 20 minutes while adding from the leftover marination all over it. Do not add to much from the shredded onion itself cause it might burn with the heat.
The chicken should have been down towards the coal from all sides. It should be done in 1.5 to 2 hours.
Take it off the grill and let it rest for 10 minutes before serving.