Baked Greek Shrimps with Feta
By Fayza Riad • March 19, 2016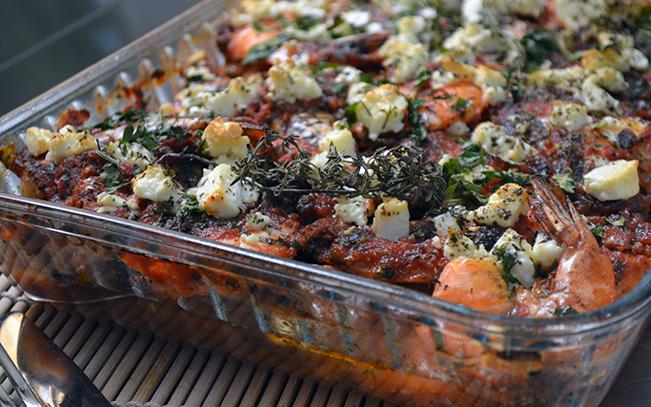 This recipe is the winner of #MyBestDish cooking competition.
Traditional Greek recipe, and very Mediterranean… It is light, fresh and easy. Tried it last year in Athens and just dared to cook it over for a friend's dinner. Everyone loved it.
Ingredients
1 kg

shrimp (unpeeled) - جمبري

2 cup

tomato juice - عصير طماطم

3 tablespoon

olive oil - زيت زيتون

1 tablespoon

tomato paste - معجون طماطم / صلصة طماطم

1/2 bunch

parsley - بقدونس

1/2 teaspoon

oregano - أوريجانو/ زعتر

1 tablespoon

mint - نعناع

100 gram

feta cheese (Greek feta) - جبنه فيتا
Step by step
Heat 2 tablespoons olive oil in a wide skillet over medium heat. Add garlic, season with salt and pepper and let it cook for a few minutes. Keep stirring, and add tomato juice and tomato paste. Let it simmer over medium heat until the sauce slightly thickens.
Add half the amount of parsley, oregano and mint. Pour the sauce into an oven-proof dish and set aside.
Pre-heat oven to 200C.
In a mixing bowl, season shrimps with salt, pepper and 1 tablespoon olive oil. Mix to coat. Arrange shrimps over tomato mixture in one layer. Crumble cheese on top and sprinkle with oregano.
Bake for 10 to 12 minutes, until tomato sauce is bubbling, shrimps cooked through, and cheese has slightly browned. Remove from oven and let it rest for 5 minutes. Sprinkle with mint and parsley and serve immediately.