Green Caviar Dip
By yasmine • April 28, 2016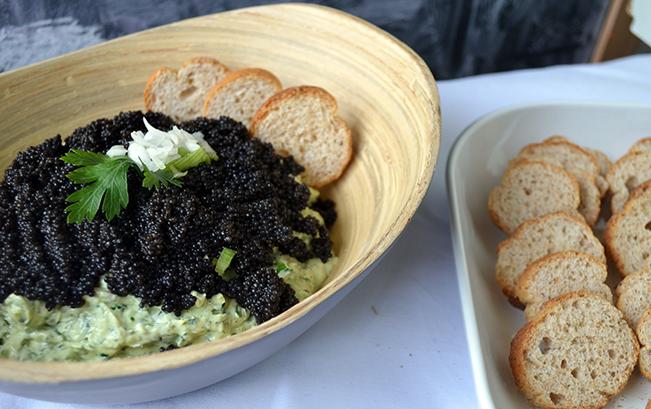 This recipe was a hit at one of my friend's gatherings and turns out she got this simple recipe from her cousin. It is one of those dips that impresses yet is so easy to prepare, and accordingly has become a hit among our friends, with each adding their special touch. Here is my version of it.
Ingredients
100-120g

caviar (1 small jar) - كافيار

500g

cream cheese - جبن كريمى

3 tablespoon

yoghurt (about 50g) - زبادي

1 small

lime (juiced) - ليمون بلدي

1/2 teaspoon

black pepper - فلفل أسود

1.5 bunch

parsley (finely chopped, about 2 cups) - بقدونس

5-6 stalks

spring onion (finely chopped, white and green parts) - بصلة خضراء
Step by step
In a large food processor, whisk all ingredients together except caviar into a thick and creamy consistency. You can use the food processor to chop the greens before adding the rest of the ingredients.
Place the dip in a medium bowl, then carefully spread the caviar on top. Garnish with a couple of parsley leaves and serve with crackers and celery sticks.