Avocado Orange Green Salad
By yasmine • July 21, 2015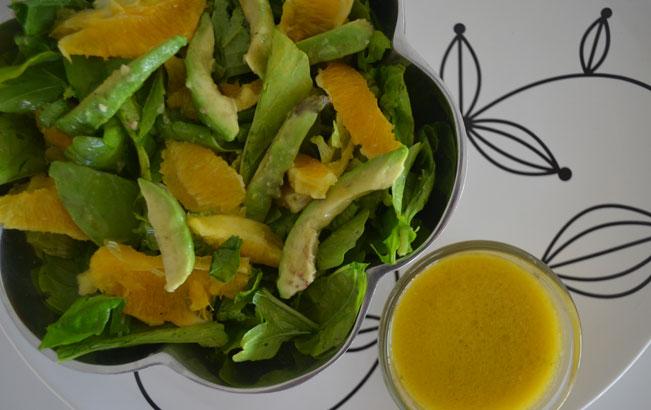 This Avocado Orange Green Salad is a refreshing summer salad – great for avocado season! The creaminess of the avocado combined with the tanginess of the citrus and the crunch from the greens (and the hazelnuts) create such an exciting flavoursome salad. I got the original recipe from a foodnetwork show a while back and recreated with local ingredients as below.
Ingredients
2

avocado (peeled & sliced) - أفوكادو

2

oranges (peeled, pitted and sliced) - برتقال

1 whole

iceberg lettuce (hand torn) - كابوتشا

1 bunch

arugula (hand torn) - جرجير

2 bunch

baby spinach (hand torn) - سبانخ صغيرة

1

orange (juiced) - برتقالة

1/3 cup

olive oil - زيت زيتون

DRESSING:

1

lime (juiced) - ليمون بلدي

1 tablespoon

honey - عسل

1/2 tablespoon

mustard - مسطردة
Step by step
Mix the greens (and sliced onions if using) in a large bowl then add the sliced avocado and orange on top.
Mix the dressing ingredients well and add on top of the salad. Sprinkle toasted hazelnuts. No need to to toss the salad, dressing will distribute upon serving.