The Christmas Chestnut Turkey Breast Anyone Can Prepare
By Sandra Keldany • December 17, 2015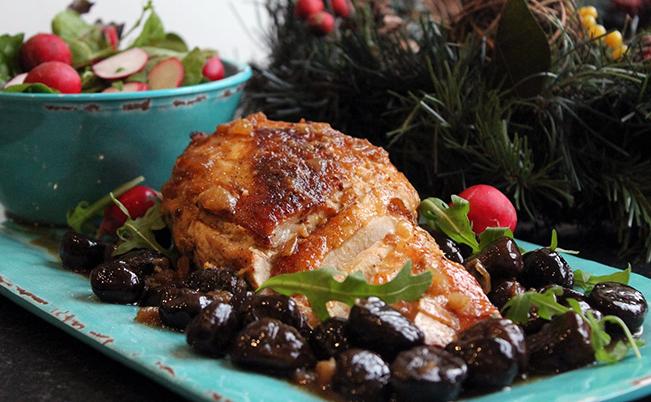 A joyous and hassle-free Christmas turkey with sweet maple syrup and lucious chestnuts. The trick lies in not using a whole turkey, but only the breast. This makes the cooking process much easier, the carving a simple task, and you end up with no leftovers!
This recipe is by Sandra Keldany from her article with CairoCooking's 'In Your Kitchen.' Read the full article here.
Ingredients
800 gram

turkey breast (boneless) - صدر ديك مخلي

1 medium

onion (finely chopped) - بصلة

2 tablespoon

vegetable oil - زيت نباتي

1 tablespoon

butter - زبدة

300 gram

chestnuts (cooked & peeled OR from a can)

1 teaspoon

garlic powder - بودرة ثوم

1 teaspoon

garlic (minced garlic) - ثوم

2 tablespoon

maple syrup - شراب القيقب

1 cup

water (240 ml) - ماء

salt and pepper (to taste) - ملح و فلفل
Step by step
Preheat the oven to 180C.
Rub the turkey breast with salt, pepper and garlic powder.
In a large frying pan (preferably oven-proof), heat the oil and the butter. Add the finely chopped onion, followed by the minced garlic and the turkey breast. Fry the breast with the onions and garlic until golden on all sides.
Add maple syrup and fry for further two minutes then add water. Using a thin knife, create a few small incisions in the turkey breast, to allow the juices to go inside.
Transfer the turkey and its juices to an oven-proof dish if your pan is not oven-proof then pop in the oven for 60 minutes. Then add the previously cooked chestnuts to the turkey pan, after 40 minutes (to allow 20 minutes of cooking time with the turkey juices). Baste occasionally during cooking.
You know the turkey is cooked when you insert a skewer in the middle and the juices run clear.
Cover and allow to stand for 10 minutes before carving.