Most Aromatic Chicken Stock
By shahdan • September 29, 2016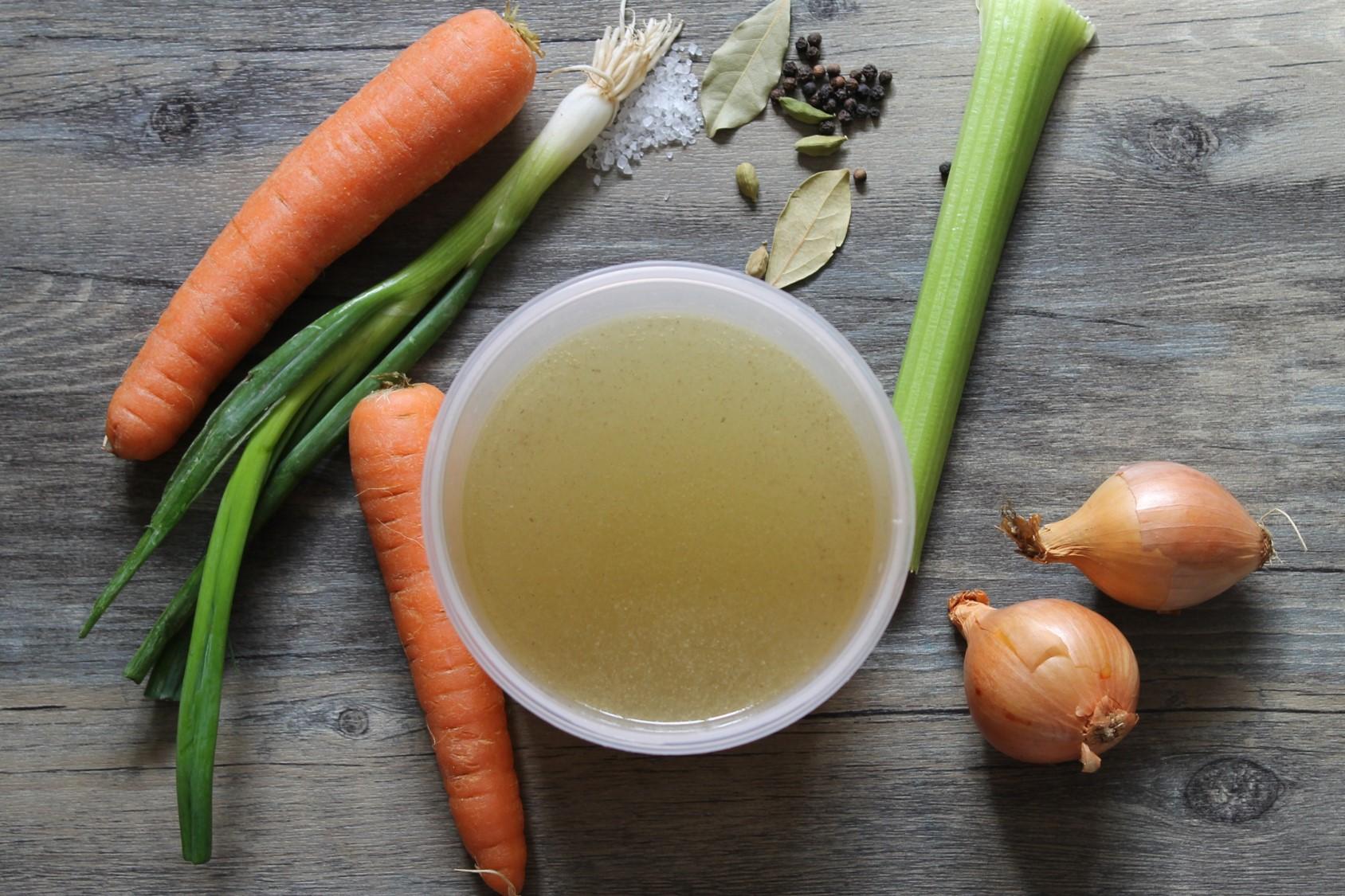 There are lots of ways to preparing a good homemade chicken stock, yet this recipe must be the most flavourful and aromatic. The main difference comes from sautéing the veggies and chicken in one tablespoon oil before adding water. This allows the fresh ingredients to release their wonderful aromas, while the chicken gets a nice light colour on the skin.
While celery can be optional, it is crucial to use spring onions and carrots for their delicious natural sweetness. White onion, cardamom and bay leaves, on the other hand, enhance the beautiful aroma of the stock. It is not recommended to use other fragrant herbs (such as oregano) because if it is strongly flavored, the stock will change the taste of traditional dishes such as Molokheya and Keshk. It is always desirable to keep the taste of chicken stock rich and aromatic, but it must also be neutral enough to work as a base for most dishes.
Ingredients
1 tablespoon

sunflower oil - زيت عباد الشمس

1 medium

chicken (or 4 thighs) - دجاج

1 large

onion (or 2 small) - بصلة

2 large

carrots - جزر

2 medium

spring onion - بصلة خضراء

2 stick

celery - كرفس افرنجي

2 medium

bay leaves - ورق لاورا

3 pod

cardamom - حبهان

1/4 teaspoon

black peppercorns - حبوب فلفل أسود

½ teaspoon

sea salt - ملح البحر

2 liter

water (8 cups) - ماء
Step by step
Heat oil in a large soup pot. Add chicken, and all ingredients (except water). Use a wooden spoon to sauté the chicken and veggies in the oil for 5 minutes.
Add water, bring to the boil, then lower the heat, cover the pot, and leave to simmer gently on low heat for up to 45 minutes.
When the stock has cooled enough to handle, pass it through a fine sieve. Use a spoon to press on the veggies in the sieve to get out all their juices into the stock. You can use immediately for cooking, chill in the fridge (to use within 2 days), or divide and freeze in suitable containers.
To remove the excess fat, chill in the fridge for an hour then remove the fat layer that appears on the surface before using or freezing it.