Couscous Salad with Vegetables & Herbs
By shahdan • March 17, 2015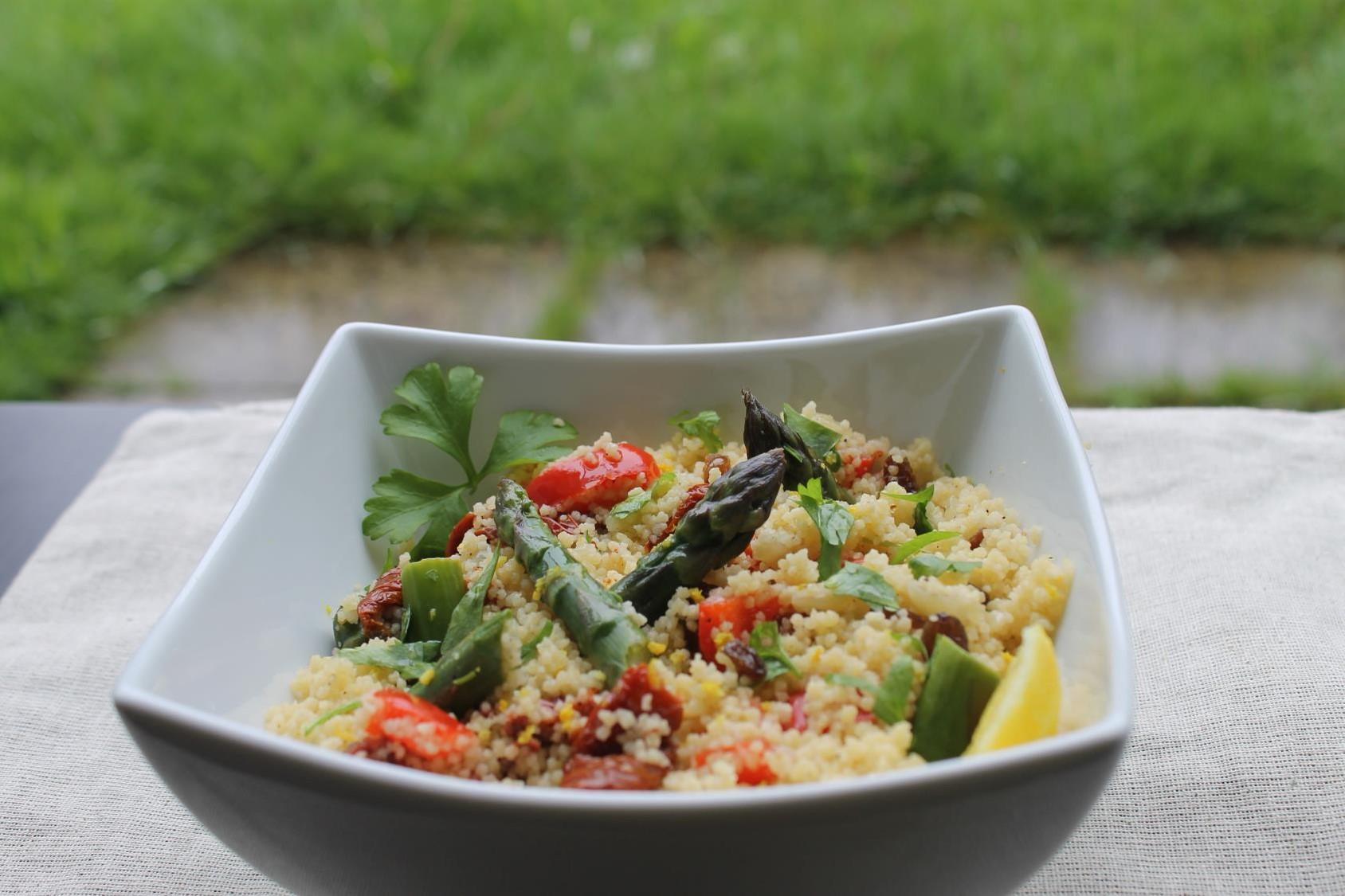 A colourful side dish, full of texture and flavour! Serve it  with your favourite grilled meat or chicken for a light healthy lunch, or on its own as a  vegetarian dish.  It is sure to impress anyone who is bored of the daily rice and pasta options.
Ingredients
1 medium

onion (finely chopped) - بصلة

1 large

red bell pepper (diced) - فلفل رومي احمر

12 stem

asparagus - الهليون

2 tablespoon

olive oil (plus a little drizzle before serving) - زيت زيتون

2 cup

boiling water - ماء ساخن

2 cup

couscous - كسكسي

1 cup

sun-dried tomatoes (plus 3 tbsps. of its oil) - طماطم مجففة

1/4 cup

raisins - زبيب

2 large

lemons (use the zest and the juice of the 2 lemons) - ليمون

1/2 cup

parsley (chopped) - بقدونس

1 pinch

salt and pepper (or to taste) - ملح و فلفل
Step by step
Prepare your veggies: finely chop the onions, dice the red bell pepper and chop the asparagus diagonally into three to four sticks.
Place the couscous in a large bowl and set aside.
Heat 2 tbsp. olive oil in a pot and add the onion and leave to cook for 2 minutes until it starts to soften.
Add the diced bell pepper and stir fry with the onion for another 2 minutes.
Finally add the chopped asparagus and stir for another minute. Make sure not to overcook the asparagus so it stays nice and green.
Season your veggies with salt and pepper.
Add 2 cups of boiling water from the kettle and leave to simmer with the vegetables for another minute.
Pour the boiling water and veggies over the bowl of couscous and cover with cling film. Leave for 10 minutes.
Use a fork to fluff up the couscous. Season generously with salt and pepper and leave the cool.
When cool add the sliced sun-dried tomatoes, some of its oil for flavour, raisins, lemon juice and zest and the chopped fresh parsley and stir through.
Best served cold. Can be prepared in advance and tastes even better the next day.
Fluff up the couscous before serving and garnish with more chopped parsley.