Coffee-Rubbed Beef Fillet Chunk
By yasmine • May 10, 2015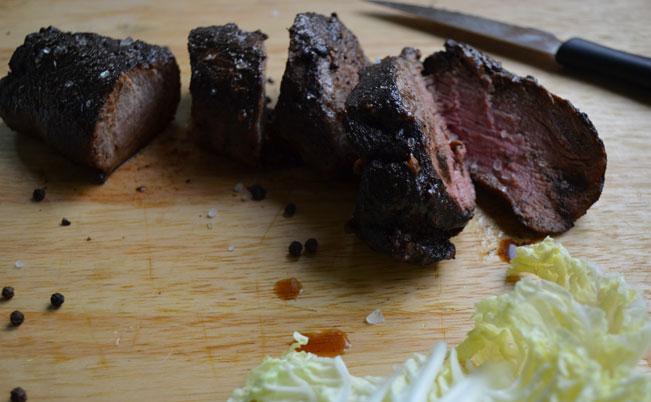 Yes, coffee! It's bitter, it creates a beautiful crust to the meat and most importantly the recipe is super-easy…with a twist!
Choose your favourite type of coffee to create your own unique coffee rub – the freshly grinded the better! I preferred the typical Turkish coffee بن محوج – cause it usually has cumin and some Arabic spices mixed in already.
Ingredients
1.5 - 2 kg

beef fillet (1 piece) - فيليه كندوز

2 tablespoon

coffee (powdered) - قهوة

1 tablespoon

garlic powder (or 3 tablespoons fresh minced garlic) - بودرة ثوم

1 tablespoon

salt - ملح

1/2 tablespoon

black pepper - فلفل أسود

olive oil (for cooking) - زيت زيتون
Step by step
Make sure your veal is at room temperature before attempting to cook it. Mix the coffee, garlic, salt and pepper to create a rich rub. Then rub the defrosted veal chunk all over with it.
If you like your meat medium or well-done, preheat oven to 180 degrees.
Put olive oil in a large pan on medium heat then fry the veal chunk on all sides for 5 to 10 minutes until browned.
For rare doneness, lower the heat and continue frying while turning on all sides for another 10 minutes. If you prefer your meat cooked medium, place it in the oven for another 10-15 minutes and up to 25 minutes for well-done. Please try the finger test for meat doneness to be sure since each oven varies.
Once the meat is cooked, cover it with foil or parchment paper and let it rest up to 30 minutes before you serve it or cut into it. We like to serve it as a whole chunk on a wooden board so the guests enjoy cutting their own pieces according to doneness and size.