Zucchini Noodles with Pesto Sauce
By Sarah Hamada • January 25, 2019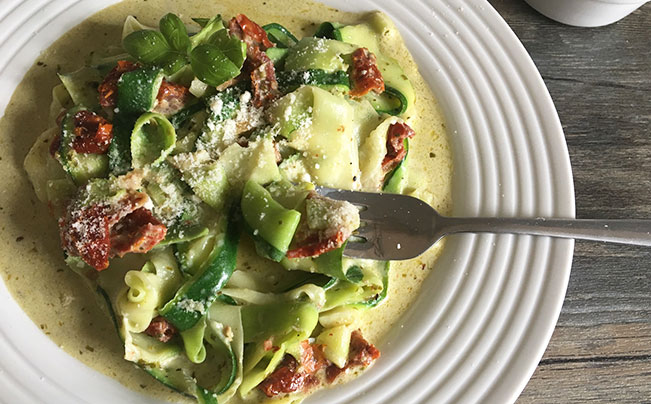 This Zucchini Noodles recipe is amazing for kids as it gives them the feel of eating noodles not zucchini!
It can also be a big hit in a small gathering.
I personally love it because it is healthy and incredibly easy to prepare .
Ingredients
2 kg

zucchini - كوسة

3 tablespoon

olive oil - زيت زيتون

3 piece

garlic (minced) - ثوم

1 pinch

salt and pepper - ملح و فلفل

1 can

pesto sauce - صلصة الريحان

5 piece

sun-dried tomatoes (thinly sliced) - طماطم مجففة

1/2 cup

cooking cream - كريم الطهي

1 handful

parmesan cheese - جبنة بارميزان
Step by step
Thinly slice zucchini or use shredder or peeler to achieve a thin noodle like cut.
Heat olive oil in a large pan. Sauté minced garlic for a couple of minutes then add shredded zucchini. Season with salt & pepper.
Stir the zucchini occasionally and let it cook for 2-3 minutes on medium heat, then add pesto, sliced sun-dried tomatoes and cream.
Stir for a couple of minutes but don't overcook the zucchini. It still needs to have a bite to it.
Serve warm sprinkled with Parmesan.