Spiced Rice with Beef & Spring Onions
By shahdan • November 16, 2016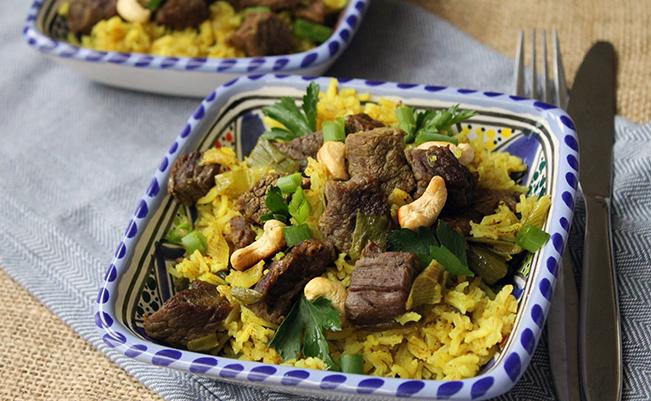 If you love hearty & filling homemade dishes, you will adore this one-pot Spiced Rice with Beef and Spring Onions. The flavours are simply superior! The ingredient helping all the flavours pop, is the spring onion. Whether you choose to serve it as a side rice dish, or as a main dish (since its full of beef), this dish is truly irresistible.
I added some turmeric to the original recipe (I had learned from my friend Yasmine) to add more aroma and colour.
Ingredients
500 gram

beef (sliced into small cubes or strips) - لحمة

2 tablespoon

olive oil (OR 1 tablespoon olive oil and 1 tablespoon butter) - زيت زيتون

1 teaspoon

all spice - بهارات

1/2 teaspoon

turmeric - كركم

1/4 teaspoon

nutmeg - جوزة الطيب

1

bay leaf - ورق لاورا

2 small

cardamom - حبهان

6 stalks

spring onion (finely chopped) - بصلة خضراء

2 cup

boiling water - ماء ساخن

1 cup

basmati rice (washed) - أرز بسمتي

salt and pepper (to taste) - ملح و فلفل

2 tablespoon

parsley (chopped to garnish) - بقدونس

1 handful

cashew nuts (OR toasted pine nuts OR almonds to garnish) - الكاجو
Step by step
In a large rice pot, heat olive oil (and butter if using any). Add beef cubes, followed by all the spices, cardamom pods, bay leaf, salt and pepper.
Keep stirring the meat until it browns on all sides (about 10 minutes). Add 5 chopped spring onions and cook for another 2 minutes.
Add 2 cups boiling water, and 1 cup washed basmati rice. Give it a quick stir, cover and cook on lowest heat until water is absorbed and rice is cooked (about 25 min). Discard the cardamom pods and bay leaf.
Serve the rice hot topped with freshly chopped spring onions, toasted nuts and parsley.