Garlic & Herb Roasted Potatoes
By shahdan • September 29, 2016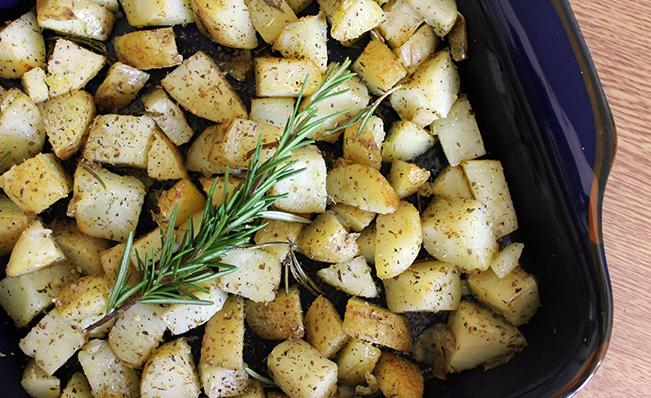 The Garlic & Herb Roasted Potato dish makes a very delicious side to almost any of your favourite proteins like fish, chicken, meat, or turkey. When I find baby potatoes, I cut them in half, toss them with olive oil and herbs, and roast them until they're nice and soft. Since these are not easily found in Egypt, I simmer regular potatoes in boiling water for 10 minutes first to reduce their roasting time.
Ingredients
4 medium

potatoes - بطاطس

3 tablespoon

olive oil - زيت زيتون

3 medium

garlic cloves (minced) - فصوص ثوم

1/2 tablespoon

oregano - أوريجانو/ زعتر

1 sprig

rosemary (leafs handtorn) - روزماري/ إكليل الجبل

sea salt (to taste) - ملح البحر

black pepper (to taste) - فلفل أسود
Step by step
Boil water in the kettle. Wash the potatoes very well and leave them whole and unpeeled.
In a large pot, cover the potatoes with boiling water and let them simmer for 10 minutes on medium heat.
Preheat oven to 200C.
Discard boiling water and wash potatoes with fresh water. (They should still be uncooked and quite firm). Slice them (without peeling) into bite-size cubes then place them in a baking dish.
Drizzle the potatoes with olive oil, then add garlic, oregano, rosemary (without stem), salt and pepper. Carefully give the potatoes a quick toss and place them in the oven for 30 to 45 minutes or until soft and golden. For best results, make sure you don't overcrowd the baking dish and give them a stir every 15 minutes.