Sweet Strawberry Tart with Homemade Custard
By shahdan • February 9, 2016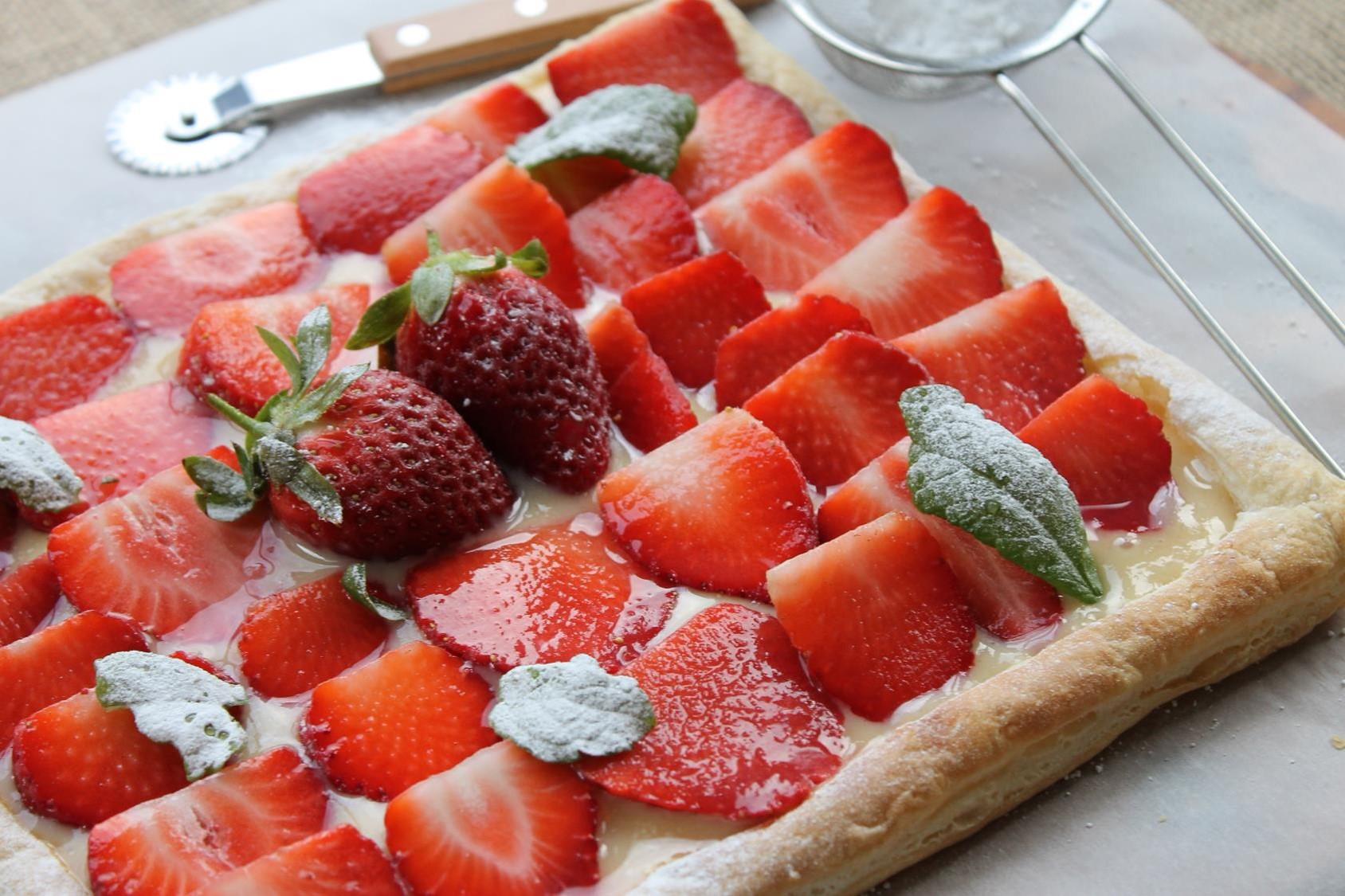 The taste and delicacy of this tart will remind you of the famous French Mille-feuille – only fresher, crispier and homemade with love!
Ingredients
1 cup

milk (250ml) - لبن

1 medium

egg - بيضة

1 medium

egg yolk - صفار البيض

4 tablespoon

sugar - سكر

2 tablespoon

flour (plus extra for dusting) - دقيق

1/4 teaspoon

vanilla extract - خلاصة الفانيليا

150-200 gram

puff pastry (about half a pack) - عجينة الباف باستري

1 small

egg (to brush tart border) - بيضة

250 gram

strawberries (sliced) - فراولة

icing sugar (for garnish) - سكر بودرة

4 leaves

mint (for garnish) - نعناع
Step by step
Make sure the puff pastry is thoroughly defrosted before you roll it out.
To prepare the custard, heat the milk in a small pot until hot (without boiling). In a bowl, whisk the egg, egg yolk, sugar, flour and vanilla extract until well combined.
Gradually add the hot milk to the mixture and whisk.
Transfer the custard mixture to the pot, bring to the boil over medium-low heat, while constantly stirring until it thickens (it will take a few minutes).
Transfer the custard to a clean bowl and cover the surface with cling film (plastic wrap) so you can avoid a skin layer on top. Set aside and leave to cool.
Preheat the oven to 180C. Line the tray with parchment paper.
Lightly dust a clean working surface with flour. Roll out the dough into a square shape about (20 x 20 cm). It doesn't have to be perfect. (Imperfection gives it a homemade rustic look!)
Carefully move the rolled-out dough to the lined tray.
Using a knife, gently score a 1 cm border around your pastry. Using a fork, pierce the middle a few times. Lightly brush the borders with a little beaten egg.
Bake for 10-15 minutes until golden. Take it out of the oven and use your hand to gently press down any risen middle part of the tart. Leave to cool.
In the meantime, wash and cut strawberries into 3-4 slices.
Spoon the custard over the tart, leaving the borders clean. Arrange the strawberries on top. Garnish with fresh mint and icing sugar.