Classic Mushroom Soup
By shahdan • April 1, 2015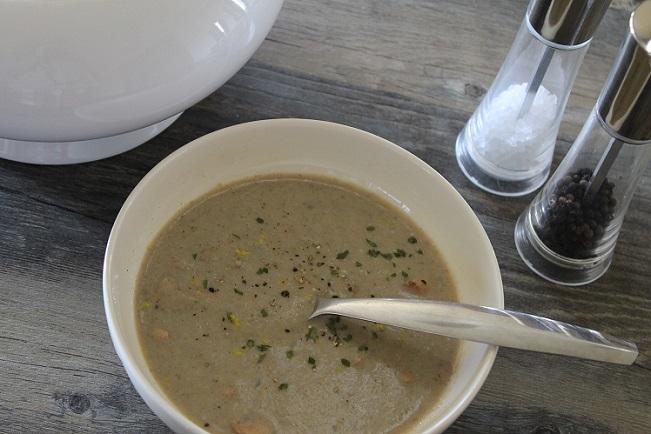 A classic soup that always pleases the crowd…
Ingredients
500 gram

mushrooms (use fresh mushroom for best result) - عش الغراب

2 tablespoon

olive oil (or a mix between olive oil and butter) - زيت زيتون

3 tablespoon

flour - دقيق

1 medium

red onion - بصلة حمراء

1 liter

vegetable stock (around 4 cups) - مرقة خضار

4 stick

celery (optional) - كرفس افرنجي

1/4 teaspoon

oregano - أوريجانو/ زعتر

1 pinch

nutmeg - جوزة الطيب

2 tablespoon

cooking cream - كريم الطهي

1/4 teaspoon

lemon zest - قشر الليمون

1 pinch

salt and pepper (to taste) - ملح و فلفل
Step by step
Clean your mushrooms using a clean wet towel or kitchen paper then chop into slices.
Heat the olive oil in a soup pot then add the sliced onions, sliced celery sticks (if using any) and sauté until both are a little soft. Add the mushrooms. Season with salt, pepper, and oregano. Cook until mushrooms have absorbed all their juices. Remove 2 tbsps. of mushroom and set aside.
Sprinkle the mushrooms with flour and stir.
Pour in the vegetable stock and leave to simmer over a low-medium heat for 10 minutes.
Puree the soup until smooth.
Return the extra mushroom. Add the cream, the nutmeg and simmer for another 5 minutes.
Serve in soup bowls and garnish with lemon zest and oregano.