Seared Tuna Salad
By Sarah Hamada • November 3, 2015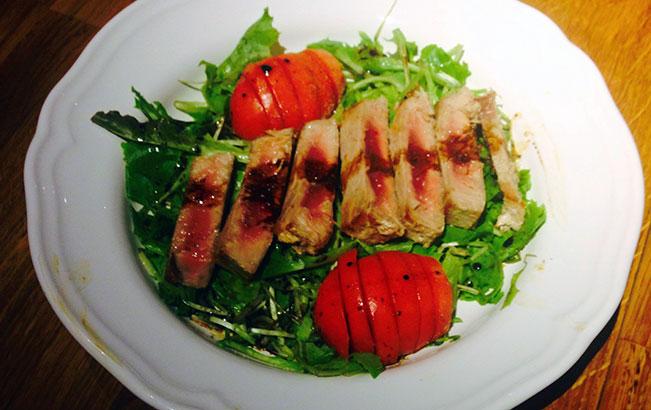 It's filling, fast, low calorie and delicious for seafood lovers!
Recipe submitted by Sarah Hamada.  Also, check Sarah's Shrimp Summer Rolls.
Ingredients
1 bunch

coriander - كزبرة

1 bunch

lettuce - خس

1 bunch

arugula - جرجير

1 whole

tomato - طماطم

1 pinch

salt and pepper - ملح و فلفل

1 fillet

Tuna Steak - ستيك تونه

1 slice

butter - زبدة

1 drizzle

olive oil - زيت زيتون

1 drizzle

soy sauce - صوص الصويا

1 drop

balsamic vinegar - الخل البلسمي
Step by step
Defrost the tuna steak , then rub and marinate both sides with salt, pepper and olive oil.
While the tuna is marinating, wash your greens and tomato and let them dry well before you chop them. Arrange in your serving dish.
Heat the butter in a pan and add the tuna steak fillet. Cook for 1.5 minutes on each side . Remove it from the pan and let it rest for few minutes. Using a sharp knife cut the tuna into very thin slices.
Arrange the sliced tuna on the salad.
Mix a little soy sauce with olive oil and a drop of balsamic vinegar and drizzle the mixture over the tuna steak salad. Serve immediately.