Mustard & Rosemary Roasted Beef Fillet
By Shewekar Elgharably • June 28, 2016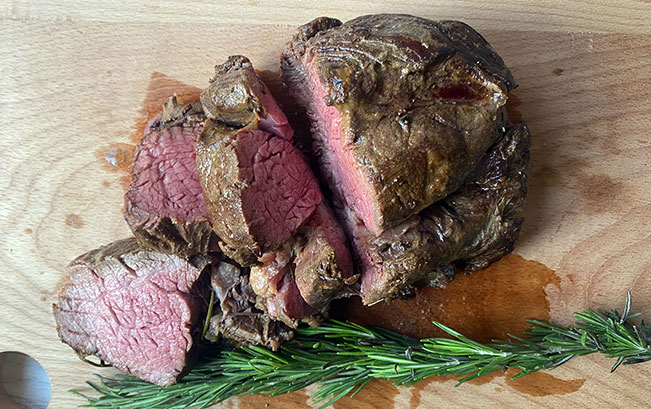 This is such an easy recipe that it became a staple in our homes. The meat turns out tender and tasty – and cooked according to everyone's liking because the sides of the fillet are thinner and cooked well done while the middle is usually thicker and needs more cooking, and that's the part that turns our medium or medium-rare.
Ingredients
2-2.5 kg

beef fillet - فيليه كندوز

1/2 cup

Dijon mustard - مسطردة ديجون

1 cup

soy sauce - صوص الصويا

1 bunch

rosemary (chop half of it only) - روزماري/ إكليل الجبل

black pepper (optional) - فلفل أسود

3 tablespoon

olive oil - زيت زيتون
Step by step
Make sure the meat is fully defrosted before starting to marinate.
Mix mustard, soy sauce and chopped rosemary.
Lather the beef fillet piece with the marinade all over. Poke the beef with the rest of the rosemary sprigs and circle it around the beef to maximize the flavor. Cover it and place it in the fridge for at least an hour.
One hour before serving, preheat the oven to 180C.
In a large skillet, heat olive oil and fry the meat on all sides for about 10 minutes. The skin should turn brown on all sides.
Move the meat to a roasting pan or use the same large skillet to put in the middle of the oven.
It should be done in 20-40 minutes depending on the level of wellness you would like it to be. Follow the guide in the intro for that.
As soon as it is out of the oven, close it tightest with foil and leave it to rest for 15 minutes before serving. You should leave it as whole and carve it on your dinner table per demand. If you won't use the left over meat juices to make a sauce then just sprinkle it over the meat just before serving.
To prepare a mustard sauce from meat gravy left behind in the skillet: add 1 minced garlic while skillet with gravy is hot on the stove and let it fry for a minute, then add 2 tablespoons mustard, 1/4 cup cooking cream, 1/4 cup hot water, some black pepper and let it simmer continuously for 5 minutes until it thickens. You can throw in some more chopped rosemary if there weren't any left in the gravy. Do not add salt, because the soy sauce marination in the gravy is salty enough.