Steak Avocado Salad
By Alia El Askalany • July 28, 2015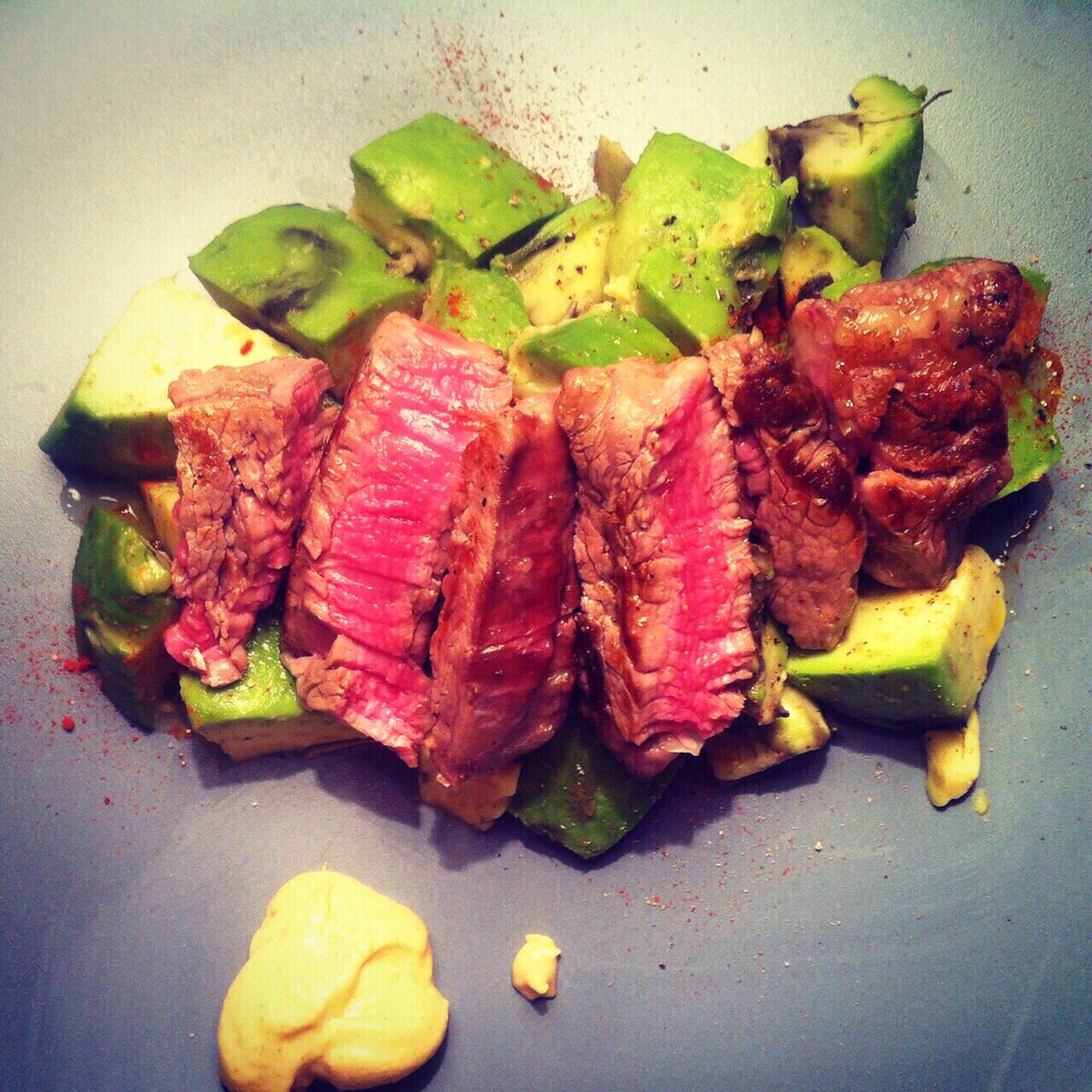 Definitely one of my favorite things to date – I can't believe how simple and colorful this dish came out to be when I put it together, at first. The burst of flavors in this recipe stems from the mix of the ingredients not the spices or marinades used; you'll be addicted to this summer meal salad in no time! Perfect for a special summer dinner 🙂
Recipe by Alia El Askalany
Ingredients
2 fillet

steak - شريحة لحم

1 whole

avocado - أفوكادو

1 teaspoon

Dijon mustard - مسطردة ديجون

1 teaspoon

chili powder - شطة مطحونة

2 whole

lemon - ليمون

2 tablespoon

olive oil - زيت زيتون

1 pinch

salt - ملح

1 pinch

pepper corn - فلفل اسود حب

1 handful

cilantro (optional) - كزبرة
Step by step
Season your steaks with salt & pepper. Lightly brush your grilling pan with olive oil and place on high heat.
Once your pan is hot, fry the steaks over high heat for 2 minutes then lower heat to medium. Cook the steaks according to your preferred doneness, turning them only once. You will need 4 minutes for medium rare, 5 minutes for medium, 6 minutes for medium-well, and 8 minutes for well done.
While steaks are grilling, prepare your avocado salad. Slice the avocado in the middle so you have two halves, remove seed, and cube each half with a knife just like you do with a mango. Carefully, scoop out the squares and place onto your serving plate. Squeeze one lemon and add salt, pepper & chili.
After steaks are done, let them rest for 5 minutes so all the juices are absorbed, then carefully slice them diagonally into strips.
Layer the steak onto the avocado salad bed and spoon Dijon on the side. Drizzle olive oil on top and another pinch of chili and you're good to go. You can also add freshly chopped cilantro for that extra summer crunch.