Crispy Cauliflower & Broccoli Gratin
By yasmine • March 18, 2016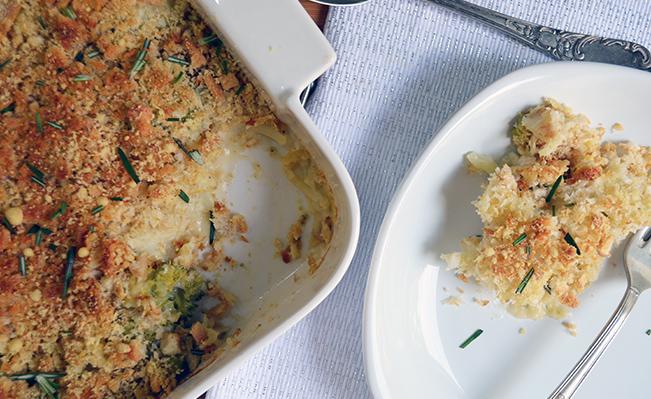 So heartwarming and delicious, this baked dish is a perfect veggie option for the whole family. It is crispy on the outside, and rich & creamy on the inside. It makes an ideal vegetable dish at dinner parties next to meat or fish.
Ingredients
1-1.5 cup

cauliflower (small florets) - قرنبيط

2 cup

broccoli (small florets) - بروكلى

2 tablespoon

butter - زبدة

3 tablespoon

all purpose flour - دقيق أبيض

2 cup

milk (preferably skimmed) - لبن

salt and pepper (generous) - ملح و فلفل

1 pinch

nutmeg - جوزة الطيب

2 slice

toast (OR 2 small buns) - توست

1 tablespoon

olive oil - زيت زيتون

3 tablespoon

parmesan cheese - جبنة بارميزان
Step by step
In a food processor, pulse the bread slices with olive oil for a minute. It should turn into chunky crumbs. Set aside.
Preheat oven to 180C.
In large saucepan, melt butter on low heat. Add flour and stir until combined - about a 1 minute. Stir in the milk slowly making sure to dissolve the flour lumps in the process. Season generoulsy with salt, pepper and nutmeg. Adjust heat to medium in order to bring the whole mix to a boil.
Add broccoli and cauliflower florets, reduce heat again and cover for about 10 minutes. The mixture will become creamy with semi-cooked broccoli and cauliflower.
Transfer to a 20x20cm baking dish or pyrex. Sprinkle bread crumbs on top followed by grated parmesan.
Place it in the middle of the oven for another 15 minutes until broccoli is cooked through and breadcrumbs are golden. Serve warm next to rice and protein.