Roasted Chicken with Garlic & Balsamic
By shahdan • November 17, 2019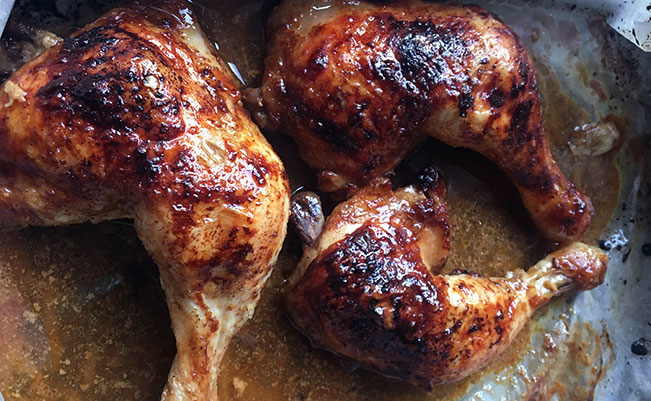 The recipe for this Garlic & Balsamic Baked Chicken is effortless, yet the end result is juicy tender chicken, with wonderful flavours and aroma. Just marinate a couple of hours in advance, and bake one hour before serving!
This chicken is definitely a great crowd pleaser.
Ingredients
4 large

chicken thighs (or whole chicken) - أوراك الدجاج

For the chicken marinade:

2 large

garlic cloves (minced) - فصوص ثوم

3 tablespoon

olive oil - زيت زيتون

2 tablespoon

balsamic vinegar - الخل البلسمي

1.5 teaspoon

Dijon mustard - مسطردة ديجون

1 teaspoon

honey - عسل

1/2 teaspoon

black pepper - فلفل أسود

3/4 teaspoon

salt - ملح
Step by step
Mix all marinade ingredients in a small jar and shake well to mix.
Place the chicken quarters in a fridge bag or box, pour the marinade over the chicken, and make sure all pieces are well coated. Refrigerate for a couple of hours, or, for best results, overnight.
Preheat oven to 200C. Arrange chicken thighs on a baking tray and sprinkle the top with a little extra salt.
Bake uncovered for 45-60 minutes or until chicken is fully cooked through. Serve hot.