Quinoa Kitchari
By Shewekar Elgharably • May 17, 2015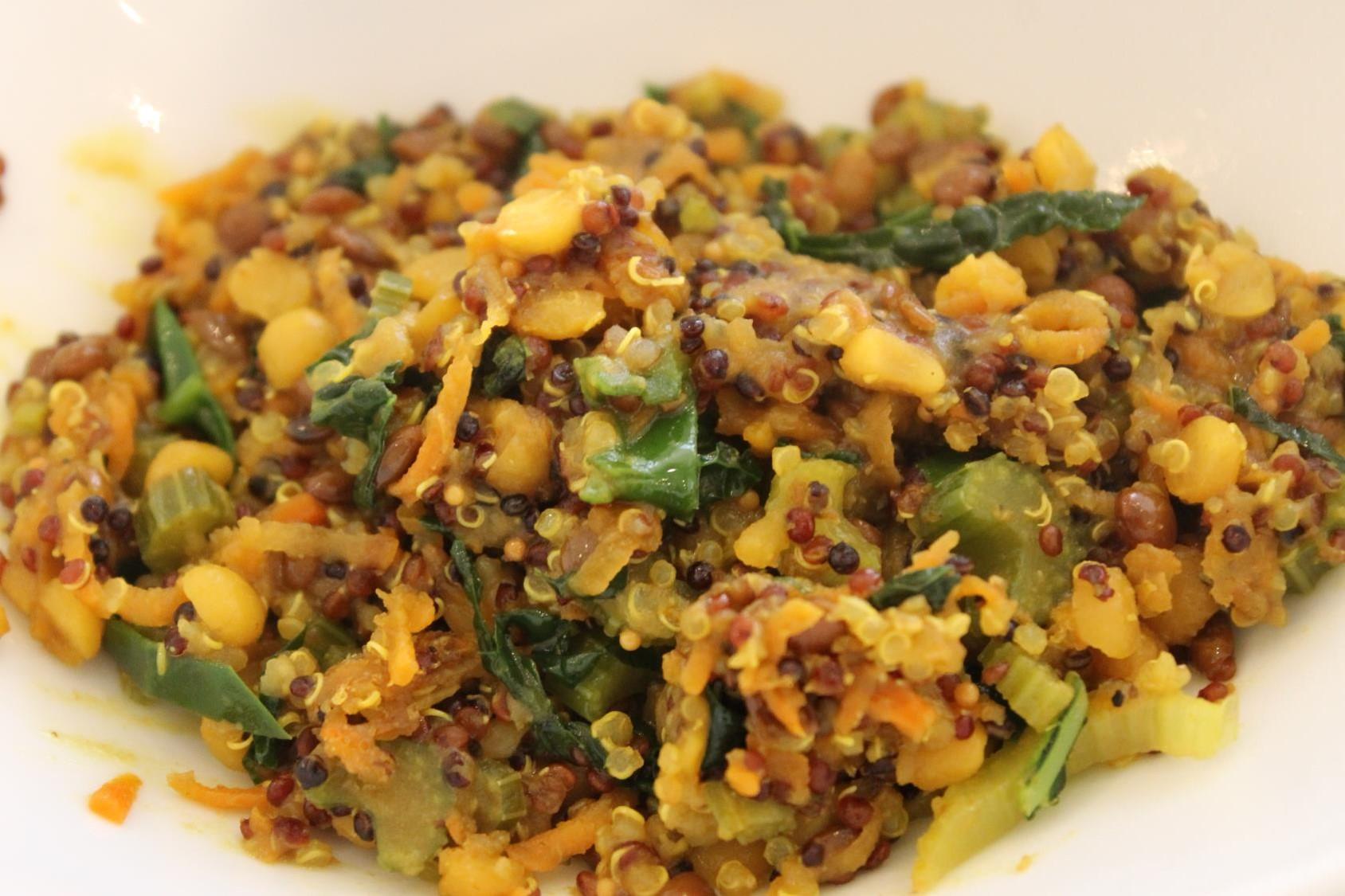 Kitchari is India's detox meal. The classic recipe is cooked with rice. In this recipe, rice is substituted with quinoa due to the numerous benefits of quinoa:
Contains a combo of healthy acids that can help reduce unhealthy cholesterol levels in the blood & fight inflammation.
Good source of protein, contains all the essential amino acids.
High in antioxidants, which protect against free-radical damage.
Quinoa is easy to digest and is gluten free.
Ingredients
1 cup

quinoa - كينوا

½ cup

brown lentils (cooked) - عدس بني

½ cup

yellow lentils (or split peas) - عدس أصفر

4 cup

vegetable stock (can be replaced with water) - مرقة خضار

2 cup

vegetables (broccoli, carrots, celery, kale, swiss chard...) - خضار

2 tablespoon

coconut oil (for cooking) - زيت جوز الهند

½ cup

cilantro (chopped for garnish) - كزبرة

½ teaspoon

mustard seeds - بذور الخردل

½ teaspoon

coriander - كزبرة

½ teaspoon

ground cumin - كمون

½ teaspoon

turmeric - كركم

½ teaspoon

ginger powder - بودرة جنزبيل

sea salt - ملح البحر

black pepper - فلفل أسود
Step by step
Wash & drain the quinoa and yellow lentils.
Chop all veggies and greens.
Heat the oil, sautee mustard seeds until they pop and add the yellow lentils (or split peas), quinoa, the chopped veggies and the rest of the spices.
Add broth, bring to a boil then put down the heat and let it simmer for 20 minutes until cooked through.
Stir in the greens and cooked brown lentils just before you take it off the heat. Garnish with cilantro.