Fig Tarte Bourdaloue
By Maha Yacine • September 7, 2015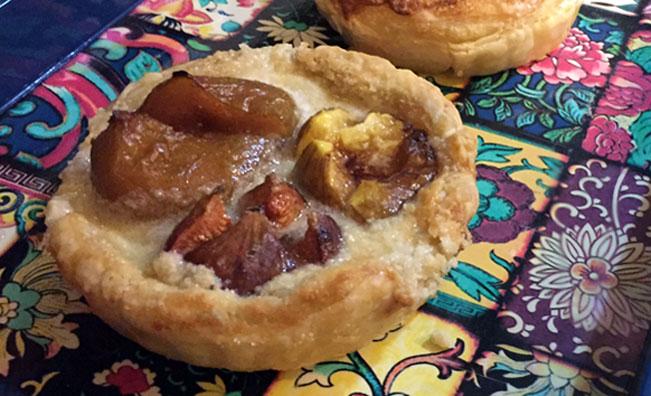 This dessert is very easy to prepare and very tasty.
After figs season is over, I will be trying the same tart with other fruits and jams! For this recipe, you will need 6 individual round tartlet tins and parchment paper.
Ingredients
8 piece

figs (cut in 4 chunks each) - تين

250 gram

short crust pastry - عجينة شورت كرست

1/2 cup

sugar - سكر

100 gram

butter - زبدة

100 gram

almond flour (around 1 cup) - دقيق اللوز

1 pack

vanilla (powder) - فانيليا
Step by step
First, sprinkle the fig chunks with the vanilla powder and set aside.
To prepare the almond cream, mix the butter, sugar and almond flour until creamy.
Lightly dust your work surface with flour, then roll out the thawed short crust pastry. Divide the pastry into 6 rectangles that are big enough to cover the individual tart tins (including the edges).
Line every tin with parchment paper then use your fingers to press the dough firmly into the round tins and around the edges. To trim the excess dough, simply roll the rolling pin over the top of the tins.
Preheat the oven to 180C.
Spread a layer of almond cream over each of the six pastries, followed by the fig slices, making sure both layers are as high as tins' edges.
Place the round pastries in the oven for 30 to 35 until the dough is golden. Leave the tarts to cool, then carefully remove from the tins and serve.