Baby Spinach & Mozzarella Salad
By yasmine • February 12, 2015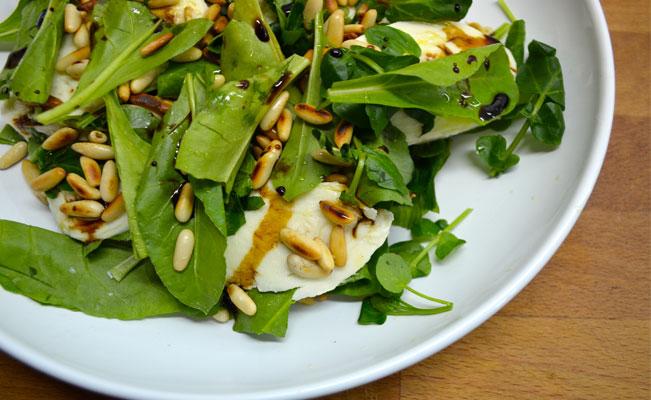 Great for entertaining, this salad was created when I decided we need to eat these two beautiful balls of fresh buffalo mozzarella in the fridge before they have gone bad (mozzarella stays in its brine for a maximum of 1 week in the fridge). I love mozzarella and would eat any day alone with some sliced tomatoes, basil and maybe some arugula and olives. Since my husband does not come near tomatoes, something like a Caprese and the likes was not an option!
Ingredients
250 gram

buffalo mozzarella - جبنة موزاريلا جاموسي

3 bunch

baby spinach (stems remove and hand-torn) - سبانخ صغيرة

1 handful

pine nuts (toasted) - صنوبر

1 tablespoon

olive oil - زيت زيتون

2 tablespoon

balsamic vinegar - الخل البلسمي

1 pinch

black pepper - فلفل أسود
Step by step
In a shallow plate, arrange the arugula and mozzarella slices and top it with toasted pine nuts.
Drizzle with olive oil and balsamic vinegar and some fresh black pepper.