Pomegranate Jallab with Silvered Almonds
By yasmine • April 16, 2017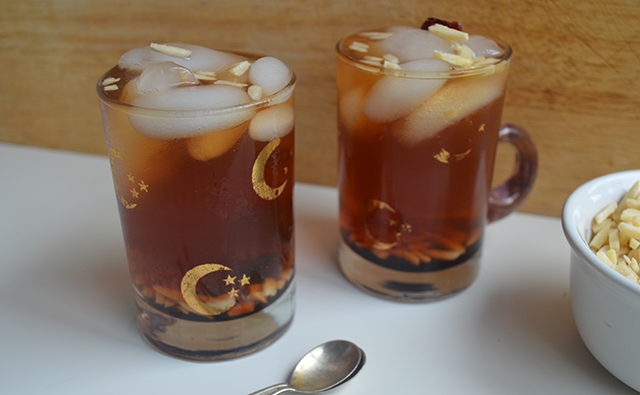 Such a simple refreshing drink, this Pomegranate Jallab is a popular drink in Lebanon and Syria on hot summer days or after a heavy meal. So easy to prepare in individual cups in a couple of minutes. You can also use date molasses for a different taste.
Ingredients
3-4 tablespoon

pomegranate molasses - دبس رمان

3 teaspoon

rose water - ماء الورد

1.5 cup

water (cold water) - ماء

ice (to taste) - ثلج

2 teaspoon

almonds (silvered & toasted) - لوز

2 teaspoon

raisins (optional) - زبيب
Step by step
Place 1.5-2 tablespoons pomegranate molasses and 1.5 teaspoons rose water in each cup.
Add some ice and fill each cup with some water. Stir to dilute the molasses.
Sprinkle toasted almonds and raisins on top.