Sweet Potato in Coconut Cream
By yasmine • May 8, 2016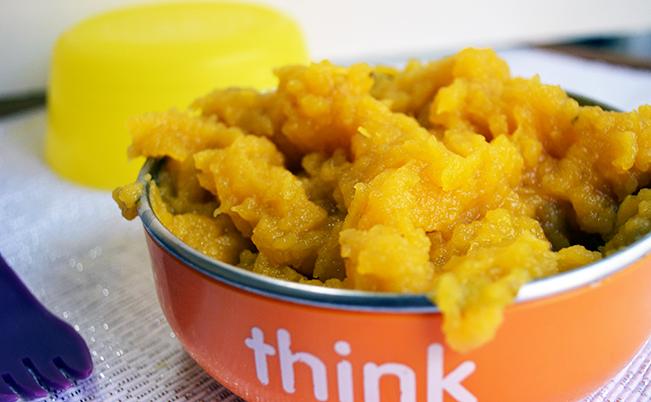 From 7 months.
Although, allergic reactions to coconut are very rare (according to the Food Allergy and Anaphylaxis Network & the FDA), it is advised to ask your doctor. Once your pediatrician approves, coconut milk or cream may be incorporated into a variety of veggies, rice and meat dishes.
Sweet potato is a recommended root vegetable for early stages of weaning. It is sweet in taste and full of important nutritients. Adding ginger and coconut cream to it, not only enhances taste but also provides your child with healthy fats (lauric acid) from the coconut cream.
Lauric acid is also the main fatty acid in breast milk. It helps make breast milk digestible and believed to protect babies from infections and boost their immune system.
For more toddler recipes, click here.
Ingredients
1 large

sweet potato - بطاطا

2-3 tablespoon

coconut cream - كريمة جوز الهند

1 teaspoon

fresh ginger (grated) - جنزبيل

1 pinch

black pepper (optional) - فلفل أسود
Step by step
Roast sweet potatoes in an 180C oven for 40-50 minutes or until softened. You can also peel it, cut in cubes and steam it for 20 minutes.
In the meantime, place 3 tablespoons coconut cream and grated ginger in a small sauce pan and let it simmer over low heat for 10 minutes.
Peel roasted sweet potato and mash it using a fork in a small bowl. Sprinkle a pinch of black pepper if using any.
Using a sieve to discard the ginger bits, stir in the ginger-flavoured coconut cream over the sweet potato mash and mix to combine. Serve it warm or cold according to your baby's preference.