Grilled Veggie Rolls with Cashew Cheese
By CairoCooking • September 6, 2016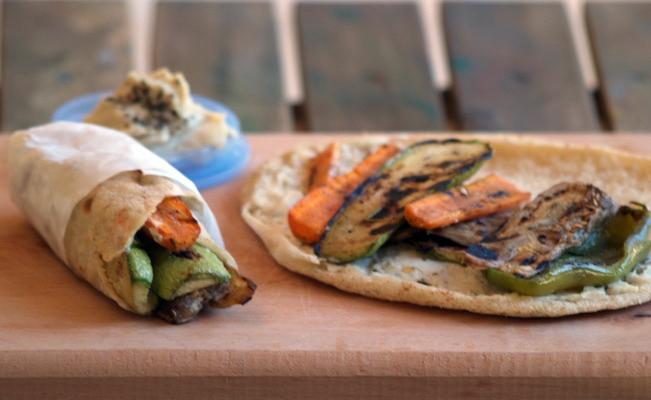 These veggie rolls are enriched with the creaminess of the cashew cheese. The combination of the veggies crunchiness and creaminess of the nutritious seasoned cheese will leave your kids happily eating this wrap. Add it to their lunchbox or yours for a full healthy meal.
Ingredients
1

carrot - جزرة

1

zucchini - كوسة

1

eggplant - باذنجان رومي

1

green peppers - فلفل أخضر

1

red pepper - فلفل أحمر

olive oil - زيت زيتون

baladi bread - خبز بلدي/ مصري

4 tablespoon

cashew cheese - جبنة الكاجو
Step by step
Slice the veggies lengthwise into thin stripes.
Place a grill pan over medium heat. Brush the veggies with olive oil from all sides. Grill veggies until tender, around 8-10 minutes. No need for salt and pepper, as the cheese is perfectly seasoned.
Carefully open the baladi bread into two wraps.
Spread a thin layer of cheese on the wraps. Arrange veggies along the side of each wrap, and roll tightly. Do not overload it so you can roll comfertably. Cut it in half and wrap it with parchment paper to secure it together and allow your child to eat it easy.