Classical Rice Pudding
By shahdan • June 26, 2016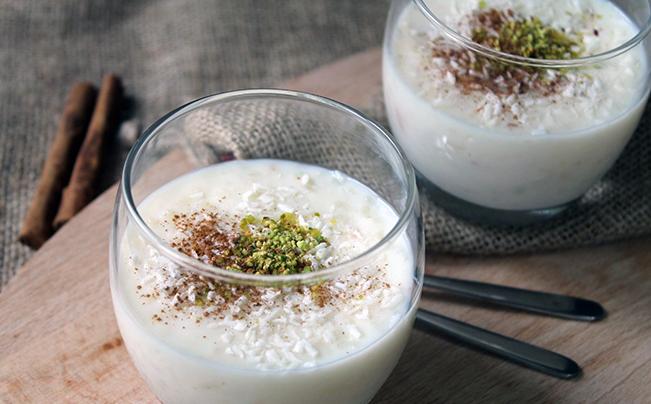 Dig into this classic rice pudding and enjoy its delicate flavour. It is super silky & creamy, it will melt in your mouth!
Ingredients
1/2 cup

rice - أرز

4 cup

water - ماء

3 tablespoon

corn flour - نشا

1 liter

half cream milk (4 cups) - لبن نصف دسم

6 tablespoon

sugar - سكر

4 tablespoon

cream - قشطة

raw nuts (to taste) - مكسرات

cinnamon powder (to taste) - قرفة
Step by step
Place the rice and water in a pot over medium heat and allow to boil. When it boils lower the heat and leave to simmer uncovered until rice is cooked and water is absorbed (about 15-20 minutes - like you would regularly cook rice).
Mix the corn flour and sugar with the cold milk, making sure all corn flour is dissolved.
Add milk mixture to the rice and cook over low heat, stirring continuously, until milk thickens (about 10 minutes). Make sure to keep stirring so that rice does not stick to the bottom of the pot and keep the heat on low, so the milk does not burn either.
When milk thickens, take the pot off heat and add the cream. (Note: milk will thicken further when refrigerated). Gently stir until all cream is dissolved and well combined.
Pour the rice pudding in one serving bowl or divide into 4 to 6 small dessert bowls. Let it cool then place it in the fridge, when it reaches room temperature, for a minimum of 3 hours.
Serve cold after you garnish with your favourite nuts, cinnamon or fresh fruits.