Quick Spinach with Tomatoes & Herbs
By yasmine • September 3, 2018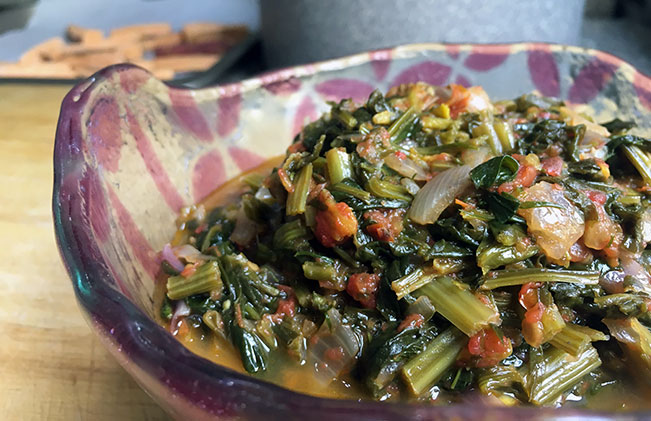 When you need a quick and delicious vegetable dish, the Spinach with Tomatoes & Herbs hits the mark. Most ingredients are home staples and easy to prepare. It is also super nutritious, filling and can easily be part of your healthy diet.
The red onion can easily be swapped for yellow onion. The herbs are not obligatory but they add extra nutritional values and a stronger flavor to the spinach.
Serve your spinach next to white or brown rice, freekeh, or crispy baladi bread.
Ingredients
2 tablespoon

olive oil - زيت زيتون

1 large

red onion (diced) - بصلة حمراء

3

tomatoes (finely chopped) - طماطم

400 gram

spinach - سبانخ

salt and pepper - ملح و فلفل

1/2 teaspoon

all spice - بهارات

1 cup

chicken broth/stock (OR hot water with extra salt & pepper) - مرقة دجاج

2 tablespoon

dill (finely chopped) - شبت

2 tablespoon

parsley (finely chopped) - بقدونس
Step by step
Heat olive oil in medium pot. Fry diced red onions for about 5 minutes stirring occasionally then follow with tomatoes.
Season with all spice, salt and pepper then stir in the spinach.
Add chicken broth and bring it to a boil. Lower heat and cover pot. Let spinach cook for 20 minutes stirring occasionally.
Five minutes before taking it off the heat, add chopped herbs and stir.
Serve in a deep serving dish next to rice or crispy bread.