Grilled Veggies & Goat Cheese Salad with Pomegranate Dressing
By Nadine El Alaily • October 21, 2016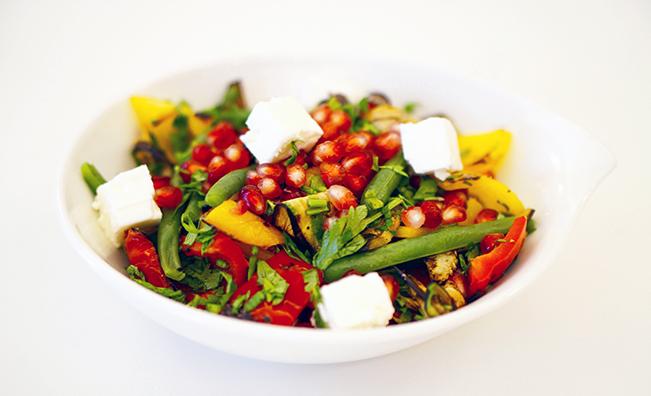 Nutrient-dense and antioxidant-rich delicious salad with a mix of grilled vegetables, goats cheese, pomegranate seeds and topped with a pomegranate-based dressing. Served cold. Only 300 calories.
Ingredients
75 gram

eggplant (cubed - about 1/3 cup) - باذنجان رومي

40 gram

bell pepper (cubed) - فلفل ملون

1 handful

green beans (about 25grams) - فاصوليا خضراء

25 gram

goat cheese (goat feta cheese - cubed) - جبن الماعز

1 tablespoon

pomegranate seeds (about 15grams) - بذور رمان

1 tablespoon

onions (minced) - بصل

1 tablespoon

parsley (finely chopped) - بقدونس

DRESSING:

1 teaspoon

pomegranate molasses - دبس رمان

1

lime (juiced) - ليمون بلدي

pinch

cinnamon powder - قرفة

1 small

garlic clove (minced) - فص ثوم

1 tablespoon

olive oil - زيت زيتون
Step by step
Chop the vegetables in cubes and toss in a hot pan till tender. Boil the green beans and blanch.
Chop parsley, onions and add to a bowl then add the cooked vegetables.
For the dressing, mix olive oil, minced garlic, cinnamon, lime and pomegranate molasses. Drizzle over the salad.
Add fresh pomegranate seeds and feta on the top then serve.