Paleo Chocolate Mousse
By yasmine • November 7, 2015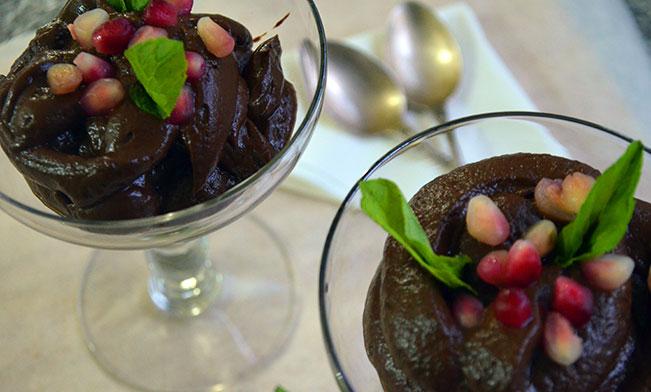 Paleo cooking refrains from processed sugars and gluten but doesn't compromise on good taste. This avocado & 100% cocoa-based mousse is so fluffy and light yet delicious. The longer it stays in the fridge the richer it becomes and the deeper the flavour. It is one of those easy desserts you can prepare when you have a sweet craving.
Ingredients
2

avocado (ripe, peeled & deseeded) - أفوكادو

1/3 cup

cocoa powder (100% cocoa) - بودرة كاكاو

1/4 cup

honey - عسل

1 tablespoon

vanilla extract - خلاصة الفانيليا

1 tablespoon

strawberries (chopped OR pomegranate) - فراولة

4-5 piece

mint (optional for garnish) - نعناع
Step by step
Cube the avocado and place it in the blender with the rest of the ingredients. Blend until combined and fluffy. You may need to pulse a couple of times to make sure the avocado is fully pureed.
Place the mousse in one or several individual bowls and leave them in the fridge for an hour before serving. You can garnish with fresh strawberries, pomegranate and/or fresh mint.