Lentil Salad with Goat Cheese & Sun-dried Tomatoes
By Shewekar Elgharably • July 14, 2016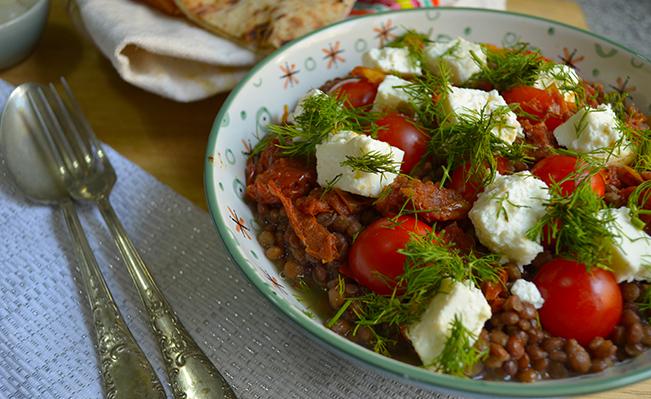 The earthy flavour of lentils, the creaminess of goat cheese, and the sweetness of sun-dried tomatoes make this Lentil Salad with Goat Cheese & Sun-dried Tomatoes simply irresistible. Serve it next to your favourite protein, eat it on its own on your lunch break, or keep it in your fridge for a filling nightly craving.
Recipe by Shewekar Elgharably from her article with www.cairocooking.com
Ingredients
1 cup

black lentils - عدس بجبة

8

cherry tomatoes (sliced in half) - طماطم تشيري

1/2 cup

sun-dried tomatoes (thinly sliced) - طماطم مجففة

1 medium

red onion (thinly sliced) - بصلة حمراء

1 handful

dill (finely chopped) - شبت

1 handful

parsley (finely chopped) - بقدونس

50 gram

goat cheese (cut into small cubes) - جبن الماعز

2 tablespoon

vinegar - خل

1 tablespoon

olive oil - زيت زيتون

salt and pepper (preferably sea salt) - ملح و فلفل
Step by step
Soak sliced red onion in vinegar for a few minutes. Set aside.
Boil washed lentils in 2 cups of water until soft. Drain lentils, discard water and set aside to cool down.
When it cools, stir in the onion with the vinegar. Add cherry tomatoes and sun-dried tomatoes. Drizzle olive oil, and season with sea salt and pepper.
Sprinkle chopped parsley and dill and crumble the goat cheese on top.