Guacamole: Chunky Avocado Spread & Dip
By yasmine • October 3, 2015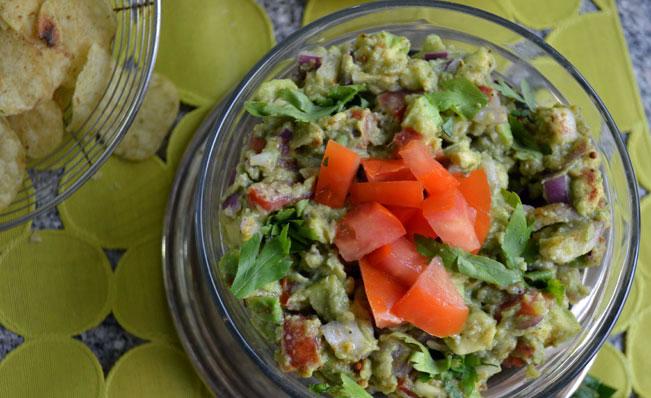 This avocado dip is chunky and full of flavour! It can stay up to 2 days sealed in your fridge to be used as a sandwich spread or a dip next to nachos or crudités. It's avocado season – go for it!
Ingredients
3

avocado (ripe not overripe) - أفوكادو

1

lime - ليمون بلدي

1

red onion (diced) - بصلة حمراء

1

tomato (seeded, peeled and diced) - طماطم

1

Tabasco (dash) - صوص تباسكو

1 teaspoon

salt - ملح

1 teaspoon

black pepper - فلفل أسود

1/2 teaspoon

paprika - بابريكا / فلفل أحمر

coriander (fresh chopped for garnish) - كزبرة
Step by step
Peel and seed the avocado, cutting the meat into big chunks.
Squeeze the lemon over it then add the rest of the ingredients except the tomatoes. Stir them slowly without mashing.
Mix in the diced tomatoes at the end and garnish with fresh coriander.