Creamy Chicken Mushroom with Spinach & Corn
By shahdan • April 25, 2017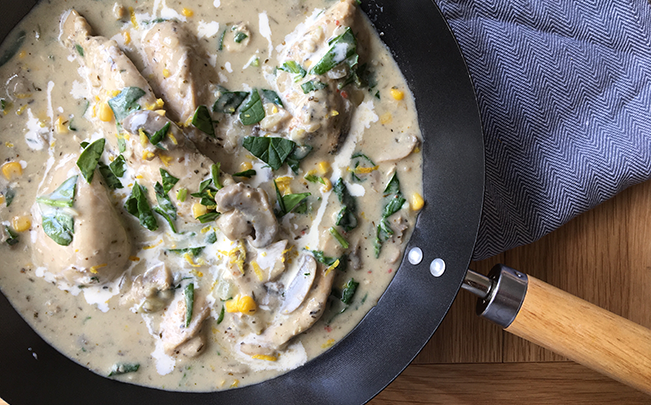 Creamy Chicken Mushroom is always a crowd pleaser and a hearty home-cooked dish. The spinach enriches the dish, while corn adds a fun twist, mostly appreciated by kids.
Chicken Mushroom is a perfect cook-ahead dish, because the rich creamy sauce keeps the chicken soft and moist. Gently re-heat before serving and enjoy a hassle-free & delicious chicken dish.
To enjoy the rich creamy sauce, serve the chicken with white rice and a simple salad on the side.
Ingredients
1 kg

chicken breast fillet (each fillet sliced into two thinner steaks) - صدور فيليه الدجاج

1/2 teaspoon

garlic powder - بودرة ثوم

2 teaspoon

oregano - أوريجانو/ زعتر

2 tablespoon

olive oil - زيت زيتون

1 medium

onion (diced) - بصلة

250 gram

mushrooms (sliced) - عش الغراب

2 large

garlic cloves (minced) - فصوص ثوم

1.5 tablespoon

flour - دقيق

2 cup

chicken broth/stock (500 ml) - مرقة دجاج

1 teaspoon

Dijon mustard - مسطردة ديجون

100 ml

cooking cream (about half cup) - كريم الطهي

4 tablespoon

sweet corn (frozen or from can) - ذرة حلوه

1 handful

spinach (thinly shredded) - سبانخ

1 teaspoon

lemon zest (optional) - قشر الليمون

salt and pepper (to taste) - ملح و فلفل
Step by step
Marinate chicken with salt, pepper, garlic powder, and 1 teaspoon oregano.
In a large pot, heat 1 tablespoon olive oil. Cook chicken on both sides on high heat until golden but not cooked through. Set aside.
Heat remaining oil in the same pot on medium-low heat. Sauté diced onion until soft (about 5 minutes). Add mushrooms and garlic, season with salt, pepper and oregano, and leave to cook for another 2 minutes. Add flour and stir gently.
Stir in warm stock and mustard then return the chicken. Cover and leave to simmer on low heat for about 15-20 minutes or until chicken is cooked through.
Five minutes before taking it off the heat, add cream, corn and spinach and let it simmer. Sprinkle with lemon zest and extra fresh spinach to garnish and serve warm.