Broccoli & Basil Soup
By shahdan • May 4, 2018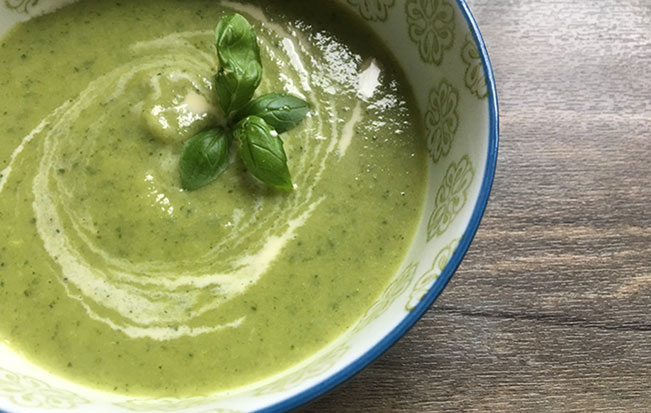 This good-for-you Green Broccoli and Basil soup is creamy and delicious without the need to add any starch. The secret ingredient is zucchini. It gives the soup an unexpectedly smooth and thick consistency, eliminating the need for cream.
Ingredients
1 tablespoon

olive oil - زيت زيتون

1 small

onion (minced) - بصلة

2 small

garlic cloves (minced) - فصوص ثوم

1 medium

broccoli (1 broccoli head without the thick stem) - بروكلى

500 gram

zucchini (roughly sliced) - كوسة

4 cup

vegetable stock - مرقة خضار

10 leaves

basil - ريحان

2 tablespoon

cooking cream (optional) - كريم الطهي

salt and pepper (to taste) - ملح و فلفل
Step by step
Heat olive oil in a soup pot and sauté minced onions until soft but not brown. Add minced garlic and cook for another minute.
Add chopped broccoli florets, give it a quick stir then follow with 3 cups of stock and the sliced zucchini. Bring to the boil then lower heat and let it simmer until veggies are soft but not overcooked.
Add the basil and use a handheld blender to puree the soup or carefully transfer it to a blender.
Return to pot and add remaining vegetable stock based on preferred soup consistency. If it is still thicker than your liking you may add a little water.
Adjust salt and pepper, add cream, if using any, and serve hot.