Homemade Fresh Fish Stock
By yasmine • May 11, 2015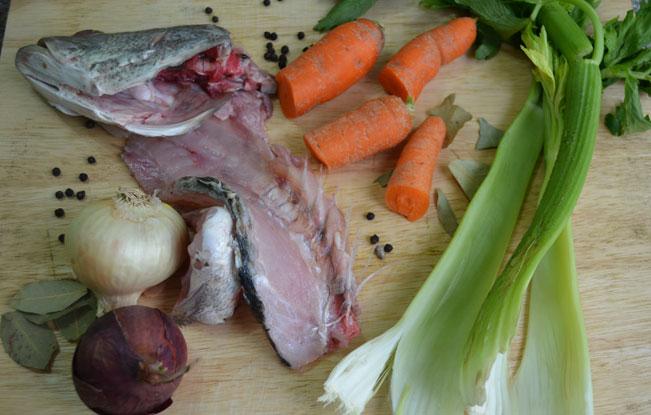 Fish broth is easy and quick to make with ingredients available in your household. It will go into any of your seafood dishes like pasta, rice, risotto, a casserole, and make it taste more fresh and authentic. You can also replace the store-bought bottled fish sauce with this fresh alternative in most Asian dishes.
There is no waste of fish for this broth, since you only use the bones, head and tail of the fish. Whenever you're buying fresh fish fillet – (and do buy fresh fish it is way better than the packaged frozen stuff even if you will freeze the fresh ones at home) ask the fisherman to clean up your fillets and cut them into serving sizes AND keep the bones for you in a separate pack!
The best fish for stock are the Mediterranean white fish like sea bass, because they're low in fat content and do not bitter the stock.
Ingredients
1-2

fish bones - عظام السمك

2

carrots - جزر

2 large stalks

celery - كرفس افرنجي

1 stem

fennel (optional) - شمر او فونوكيا

1

red onion - بصلة حمراء

1

white onion - بصل ابيض

3 to 4

bay leaves - ورق لاورا

1 teaspoon

black peppercorns - حبوب فلفل أسود
Step by step
Peel and cut all veggies in large chunks.
In a large pot, put all fish bones, cut veggies, peppercorns, bay leaves and cover it with 5 cups of lukewarm water.
Let the mix simmer on low heat for up to 20 minutes.
Drain the broth from the veggies, let it cool then transfer into a sterilised container. You can keep it in the fridge for up to 1 week or in the freezer for a month.