Spinach & Minced Beef Hawawshi
By CairoCooking • September 8, 2016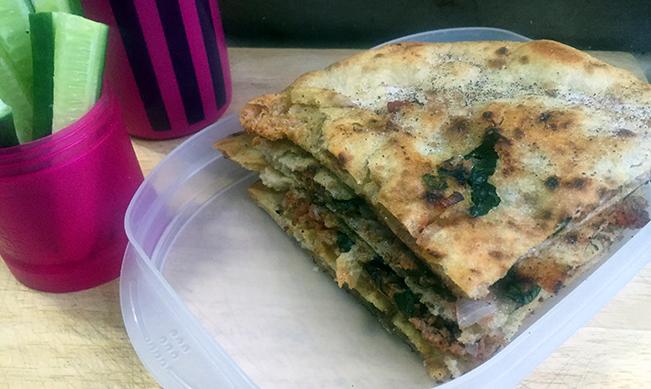 Nothing in your child's lunchbox can be compared to a full meal, like this Spinach and Minced Beef Hawawshi Recipe. Crispy from the outside with a delicious filling, this oriental-style sandwich will impress your child.
The falahy balady bread is the perfect size for a Hawawshi that can last a couple of days. The bread also turned really nice and crispy from the oven.
Ingredients
1

baladi bread (cut in half) - خبز بلدي/ مصري

1/4

minced meat - لحم مفروم

1 small

onions - بصل

3 tablespoon

tomato sauce - صلصة طماطم

1 handful

baby spinach (shredded) - سبانخ صغيرة

1/2 teaspoon

all spice - بهارات

2 tablespoon

ghee (melted OR butter) - سمن بلدي

salt and pepper - ملح و فلفل
Step by step
Preheat oven to 180C. Line a round or rectangular oven tray with parchement.
In a medium bowl, mix minced meat with minced onions, shredded spinach, tomato puree, all spice, salt and pepper. Set aside.
Slice baladi bread in half and open it to stuff it with the minced meat mix. Make sure to distribute the mix evenly between the two baladi bread layers.
Place the two stuffed bread halves on the oven tray. Brush all bread sides with the melted ghee.
Place the tray in the middle of the oven for 20 minutes, turning the Hawawshi halfway through. Let it cool before you slice it to fit your lunchbox.