Homemade Low-Sugar Strawberry Jam
By yasmine • April 25, 2016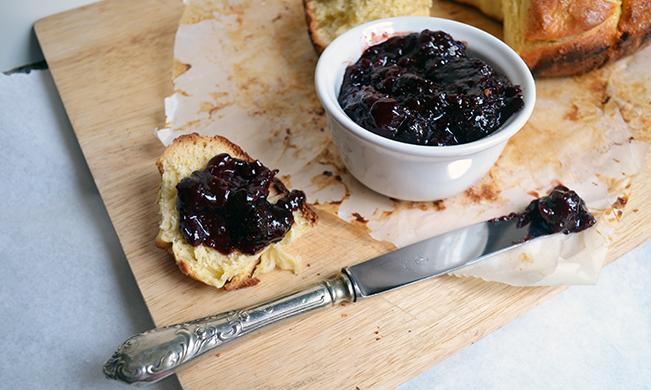 You might find this strawberry jam a bit dark like a berry jam, but that's due to the prolonged cooking process to caralmise the little sugar used in this recipe. While the traditional Egyptian jams require 1/2 to 1kg sugar to every 1kg strawberry, we tested this one to make sure we can still achieve a yummy jam without so much sweetness. It was approved by a couple of jam fanatics and the kids…so it became a staple!
You might not buy jarred strawberry jams or resort to extra-sugary homemade ones again 🙂
Ingredients
2 kg

strawberries - فراولة

1 cup

sugar - سكر

1

lime (juiced) - ليمون بلدي
Step by step
Remove strawberry leafy top as well as upper white bit. Slice strawberries lengthwise and place in a large bowl. Sprinkle with sugar and lime juice and stir to evenly distribute the toppings. Place it in the fridge for 4 hours or overnight.
In a large non-stick pot, place sliced strawberries and juices, and cook on medium heat. As soon as the mix boils, lower the heat and let the mix simmer for 1.5 hours. Make sure to stir occasionally scraping the sides of the pot.
Once the jam is caramelized and a bit thickened, remove from heat and let it cool for up to 30 minutes before placing it in a sterilized jar. Note that the jam will thicken further as it cools. It can be stored for up to a week in the fridge.