Eggplant Upside-Down Fatta
By shahdan • September 23, 2015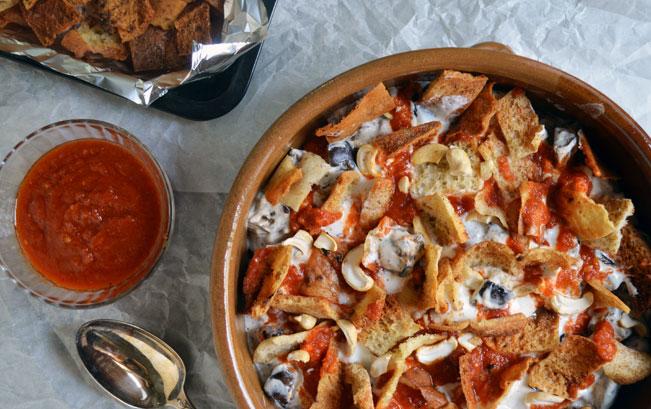 Eggplants, yoghurt, garlic and golden crispy bread are just a match made in heaven. Every eggplant lover has to try this recipe  – it might seem like a salad since it is not served hot, but the garlicky tomato sauce begs to differ.
Ingredients
1 kg

eggplant (3-4 pieces - cut in cubes) - باذنجان رومي

1/2 cup

olive oil (for roasting eggplants, bread and garlic for sauce) - زيت زيتون

1/2 teaspoon

black pepper - فلفل أسود

3

baladi bread (cut in medium squares) - خبز بلدي/ مصري

850 gram

yoghurt (about 8 small yoghurt cups) - زبادي

2 tablespoon

tahini - طحينة

2 teaspoon

salt - ملح

15-17

garlic cloves (minced for yoghurt and for sauce) - فصوص ثوم

4

tomatoes (peeled and blended into juice) - طماطم

2 tablespoon

vinegar - خل

1 tablespoon

tomato paste (optional) - معجون طماطم / صلصة طماطم

1 handful

pine nuts (optional - OR sliced almonds OR raw cashews) - صنوبر
Step by step
Preheat oven to 180C and line two baking trays with foil or parchment.
Drizzle the cubed eggplants with 2 tablespoons olive oil and pepper then spread them on the baking tray and place in the middle of the oven. Make sure you toss the cubes around at least a couple of times during cooking. It should be cooked through by 45-50 minutes - make sure you can squeeze it.
Drizzle the baladi squares with 2 tablespoons olive oil and spread on baking tray and place in the oven for 15-20 minutes until golden and crisp. If you can't place both trays next to each other, then put the bread in the upper shelf and make sure to toss it at least once.
Mix the yoghurt with the tahini, salt and about 10 to 12 cloves of minced garlic. Set aside.
Use two table spoons olive oil to fry the remaining mixed garlic (around 5 cloves). Before it turns brown, add the vinegar then the juice of 4 tomatoes, the paste, salt and pepper and let it simmer for 15-20 minutes. It should get a bit darker and thicker.
Once all components are ready, let them cool for 10 minutes before you start layering. Fold the cooled eggplant cubes into the yoghurt mix making sure it is entirely coated.
Place the eggplant yoghurt in the serving dish, followed by the tomato sauce then half of the crispy bread. The rest can be served in a side dish for additions.
Toast some pine nuts (here I used cashews) and sprinkle it on top.