Creamy Avocado Hummus
By shahdan • June 13, 2017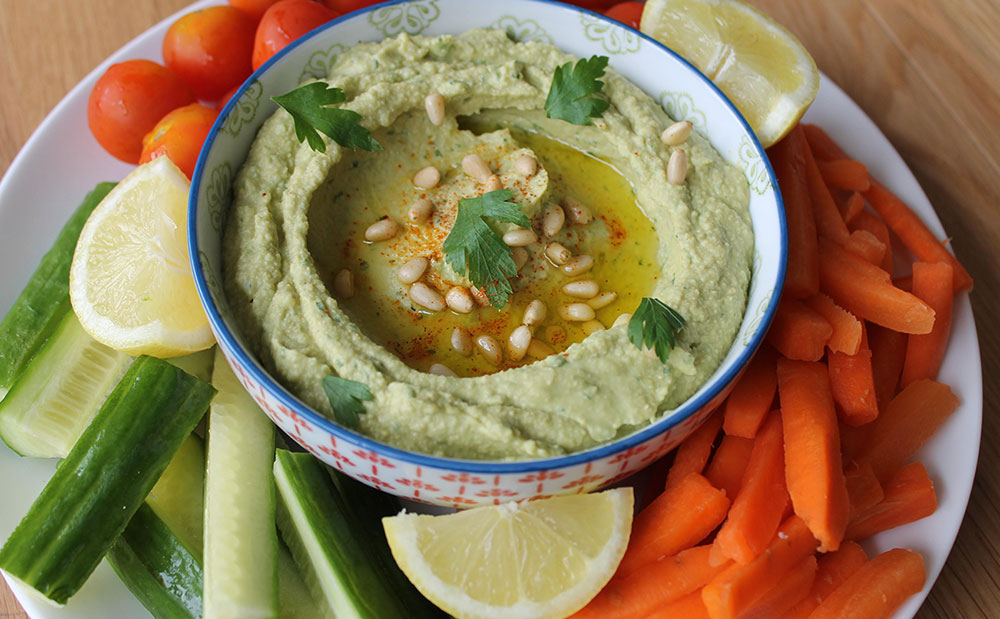 Healthy, nutritious and full of delicious flavours, the Creamy Avocado Hummus dip will be your new favourite crowd pleaser, as well as an everyday guilt-free dip for those late-night cravings.
Ingredients
1 can

chickpeas (OR 1 cup cooked chickpeas) - حمص

1/2 medium

avocado (ripe) - أفوكادو

1.5 tablespoon

tahini - طحينة

2 tablespoon

parsley (chopped) - بقدونس

2 small

lime (OR to taste) - ليمون بلدي

1 medium

garlic clove - فص ثوم

6 tablespoon

water - ماء

salt and pepper (to taste) - ملح و فلفل

1 tablespoon

pine nuts (to garnish) - صنوبر

1 drizzle

extra virgin olive oil - زيت الزيتون بكر

1 pinch

paprika (to garnish) - بابريكا / فلفل أحمر
Step by step
Drain chickpeas and rinse with fresh water.
Place chickpeas in a food processor along with avocado, tahini, parsley, lime juice, garlic, water, salt and pepper. Blend until you achieve a creamy consistency and all ingredients are well combined. You may add an extra couple of tablespoons of water if needed.
Taste and adjust salt and pepper. Serve in a small bowl and use the back of a tablespoon to create a deep swirl in the hummus for the olive oil.
Sprinkle with pine nuts, add a drizzle olive oil and a pinch of paprika. Serve with vegetable sticks and your favorite bread.