Roasted Shrimp Stuffed Avocados
By yasmine • August 14, 2015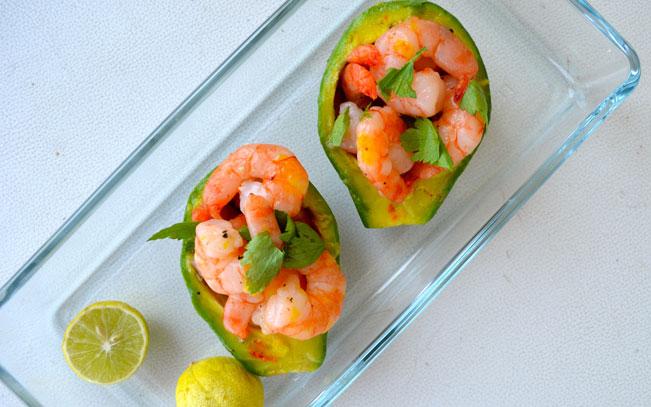 When shrimp and avocados come together, the results are usually luscious, impressive and mostly delicious! We urge you to try this recipe before avocado season is gone – for a brunch gathering, a delicate appetiser to a seafood meal or just to share with a loved one.
Ingredients
2 cup

shrimp (small sized - about 30 pieces) - جمبري

2 tablespoon

olive oil - زيت زيتون

3

garlic cloves (minced) - فصوص ثوم

salt and pepper - ملح و فلفل

2 piece

avocado (halved, deseeded & peeled) - أفوكادو

2

lime - ليمون بلدي

paprika (to taste) - بابريكا / فلفل أحمر

4 drop

chili sauce (OR Tabasco - optional) - الصوص حار

1 tablespoon

coriander (freshly chopped) - كزبرة
Step by step
Preheat oven to 180C. Marinate the shrimps in a mix of olive oil, garlic and salt and pepper for 15 minutes.
Place the shrimps in a flat tray in the oven for 15min or until pink and cooked. Leave it out to cool.
Squeeze some lime juice on the avocado, and drizzle some paprika and salt and pepper.
Place 7 to 8 pieces of shrimp on each avocado half. Drizzle more lime, paprika and chill sauce if desired. Decorate with some chopped coriander leaves.