Fattet Shawerma
By shahdan • September 11, 2016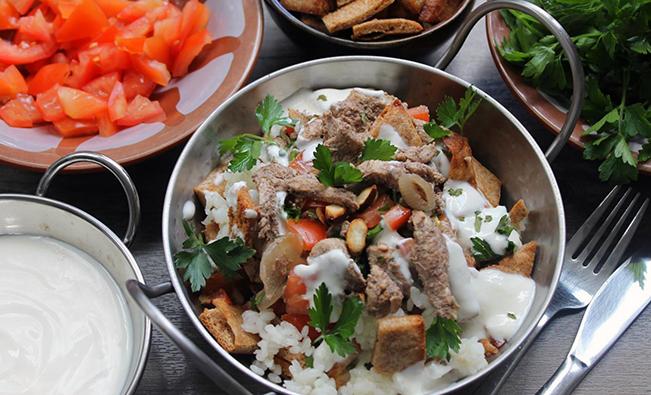 Not your traditional Fatta dish, this Chicken Shawerma Fatta will definitely impress the crowd, especially the younger generation that doesn't appreciate the classic lamb version.
I find this quantity perfect for a family of four. You will need to double the quantity for bigger gatherings.
For best results, marinate the chicken overnight.
Ingredients
750 gram

chicken breast fillet - صدور فيليه الدجاج

1/4 cup

vinegar - خل

1 teaspoon

all spice - بهارات

2 tablespoon

yoghurt - زبادي

2 medium

garlic cloves (minced) - فصوص ثوم

1/2 medium

pickled lemon (finely chopped)- you may substitute with juice of 2 limes - ليمون معصفر

1 teaspoon

salt - ملح

1/4 teaspoon

black pepper - فلفل أسود

1 large

onion (thinly sliced) - بصلة

3 medium

tomatoes (deseeded and cubed) - طماطم

1 bunch

parsley (finely chopped) - بقدونس

2 large

shamy bread - خبز شامي

4 tablespoon

olive oil - زيت زيتون

500 gram

cooked rice - ارز مطبوخ

2 tablespoon

pine nuts (toasted- to garnish) - صنوبر

For the yoghurt topping:

2 cup

yoghurt - زبادي

1 teaspoon

tahini - طحينة

2 small

garlic cloves (minced) - فصوص ثوم

salt and pepper (to taste) - ملح و فلفل
Step by step
Using a good sharp knife, cut the chicken into thin shawerma slices.
Marinate with vinegar, all spice, yoghurt, garlic, pickled lemon, salt and pepper. Add onion slices, mix, and leave to marinate in the fridge for a couple of hours, or for best results overnight.
To cook the shawerma, heat 2 tablespoons olive oil in a large pan or wok. (Make sure not to overcrowd a small pan so the chicken cooks properly.) Add the chicken and cook uncovered on medium heat. The chicken will release its water. Let it cook, stirring frequently, until water is absorbed and the chicken is cooked through. Turn off the heat and add tomatoes and parsley. Cover and set aside.
To prepare the crispy bread, use scissors to cut the bread into small rectangles. Drizzle with 2 tablespoons olive oil, and use your hands to rub the bread pieces with the oil. Bake in a 180 oven for 10- 15 minutes. Check frequently, and mix gently, to make sure it doesn't burn.
In a separate bowl, mix yoghurt with tahini, garlic, salt and pepper. Set aside.
To assemble the dish, arrange the crispy bread in a medium dish. Add cooked white rice over the bread. Finally add the chicken shawerma on top. Drizzle with yoghurt dressing and garnish with pine nuts and extra parsley. Serve hot.