Frozen Banana Cream with Cranberries
By yasmine • September 13, 2015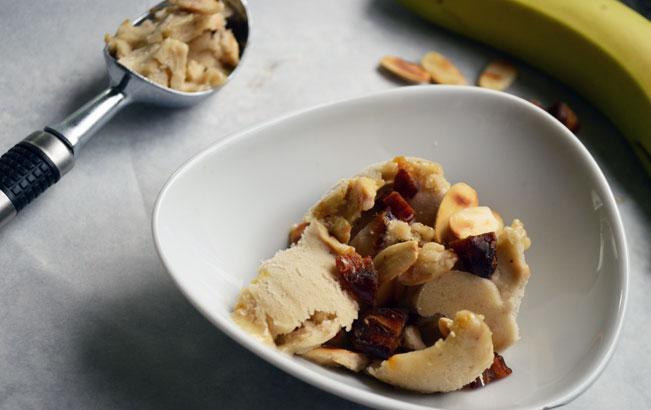 Just before your bananas turn black from the heat – peel them, slice them and place them in a plastic bag, squeeze out the air and in the freezer! You can forget about them and get them out when needed or just wait 2-3 hours until they're completely frozen.
Now the frozen bananas are ready to be blended into an ice cream consistency everyone will love! Especially, knowing it is light and sugar-free!
Ingredients
8

bananas - موز

1/2 cup

dried cranberries (OR chopped dried dates) - التوت البري المجفف

1/4-1/2 cup

almonds (OR pecans) - لوز

2-3 tablespoon

milk (OR coconut milk OR almond milk - optional) - لبن
Step by step
Slice and freeze overly ripe bananas.
Use a blender to smoothen the frozen bananas. You might need a couple of tablespoons of milk to ease the blender.
Soak the dried cranberries in some warm water for 10 minutes before squeezing water out of them and sprinkling them on the banana cream.
You can also toast some almonds or caramelised pecans and sprinkle them on top.
To make caramelised pecans: add your raw pecans to a non-stick pan on medium heat and gradually add 1-2 tablespoons brown sugar (You may use honey or maple syrup instead). Keep stirring so the pecans don't stick to the pan and making sure all the pecans are being coated. Once the caramel is formed around the pecans and they start to stiffen, remove from the heat and place on a parchment paper until it cools. You can break them apart with your hand or chop them up with a knife if you want smaller pieces.