Make-Ahead Chicken Shawerma & Tahini Sandwich Fillers
By shahdan • September 22, 2016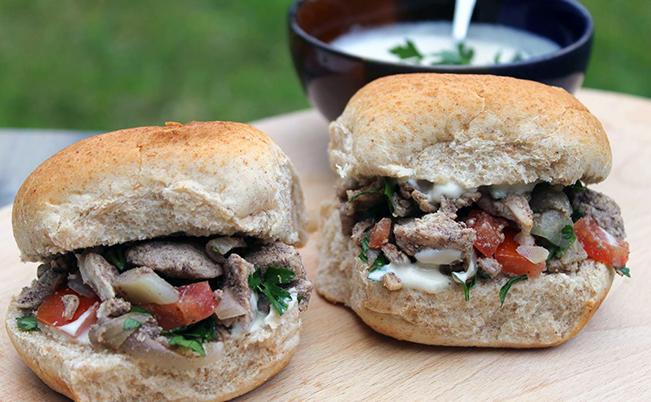 The children will be super excited about this yummy Shawerma & Tahini sandwich at school. Just cook the shawerma and prepare the tahini sauce in advance, then store in the fridge. In the morning, you can decide wether to serve this chicken shawerma in small buns or in tortilla wraps!
This quantity will make about 6 sandwiches (depending on the bread you will use). If you want to make a larger quantity for the whole family, double the quantity and use 1.5 kg chicken!
For best results, marinate chicken for a couple of hours or overnight!
Ingredients
750 gram

chicken breast fillet - صدور فيليه الدجاج

1/4 cup

vinegar - خل

1 teaspoon

all spice - بهارات

2 tablespoon

yoghurt - زبادي

2 medium

garlic cloves (minced) - فصوص ثوم

1/2 medium

pickled lemon (finely chopped OR juice of 2 limes) - ليمون معصفر

1 large

onion (thinly sliced) - بصلة

1 teaspoon

salt - ملح

1/4 teaspoon

black pepper - فلفل أسود

2 tablespoon

olive oil - زيت زيتون

3 medium

tomatoes (deseeded and cubed) - طماطم

1 bunch

parsley (finely chopped) - بقدونس

For the tahini sauce:

2 tablespoon

tahini - طحينة

1 tablespoon

yoghurt - زبادي

2 tablespoon

vinegar - خل

2-3 tablespoon

water - ماء

pinch

ground cumin - كمون

salt and pepper (to taste) - ملح و فلفل
Step by step
Using a good sharp knife, slice the chicken into thin shawerma slices. You can also buy the chicken sliced from your butcher.
Marinate chicken slices with vinegar, all spice, yoghurt, minced garlic, pickled lemon (or lime juice), sliced onion, salt and pepper. Cover and place it in the fridge for a couple of hours or for best results, overnight.
To cook the shawerma, heat 2 tablespoons olive oil in a large pan or wok. (Make sure not to overcrowd a small pan so the chicken cooks properly.) Add chicken slices and cook uncovered on medium heat. The chicken will release its water. Let it cook, stirring frequently, until water is absorbed and chicken is cooked through. Take Shawerma off the heat, then add cubed tomatoes and chopped parsley.
Let it cool, then place it in a sealed box in the fridge to use when needed as a sandwich filler.
For the tahini sauce, mix tahini with yoghurt, and vinegar. Gradually add water and stir until you achieve the needed consistency. Season with cumin, salt and pepper. Store in another small sealed box in the fridge. Use the sauce to spread over the bread before filling the Shawarma sandwich. The Tahini might slightly thicken when stored in the fridge. You can add a few drops of water and stir, to make it thinner.