Baked Salmon with Fresh Herbs
By Dimah Jayyusi • July 13, 2016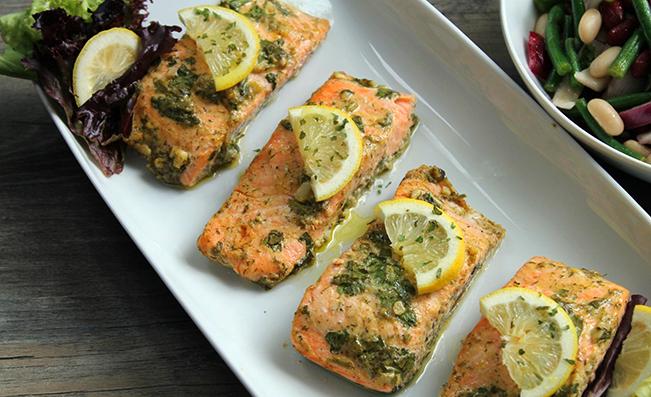 In the kitchen, I'm a fan of rich flavor, but more important than that – an easy recipe, like this baked salmon with fresh herbs. Guests have asked me for this recipe – which is super easy to make. The only effort required is in the marinade preparation. Enjoy!
Recipe by Dimah Jayyusi.
Ingredients
4 fillet

salmon - سمك السلمون

3 piece

garlic cloves (crushed) - فصوص ثوم

1.5 teaspoon

Dijon mustard - مسطردة ديجون

1/2 teaspoon

sea salt - ملح البحر

1/8 cup

olive oil - زيت زيتون

2 tablespoon

lemon juice - عصير ليمون

1 handful

dill (chopped) - شبت

1 handful

coriander (finely chopped) - كزبرة

2 tablespoon

parsley (chopped) - بقدونس
Step by step
Mix all ingredients (except salmon steaks) to prepare the marinade.
Sort salmon steaks, skin-side down, in a container, and drizzle with marinade. Seal container and give it a shake. Marinade for one hour or overnight.
Preheat oven to 200 C.
Place salmon steaks in an oven tray, skin-side down. Drizzle any remaining marinade.
Bake in oven - uncovered - until flakey. It should take 20 to 30 minutes depending on salmon thickness. - until flaky.
I normally serve it with steamed asparagus drizzled with lime juice & olive oil. Serve hot and enjoy!