Freekeh Beraam With Chicken
By shahdan • April 24, 2020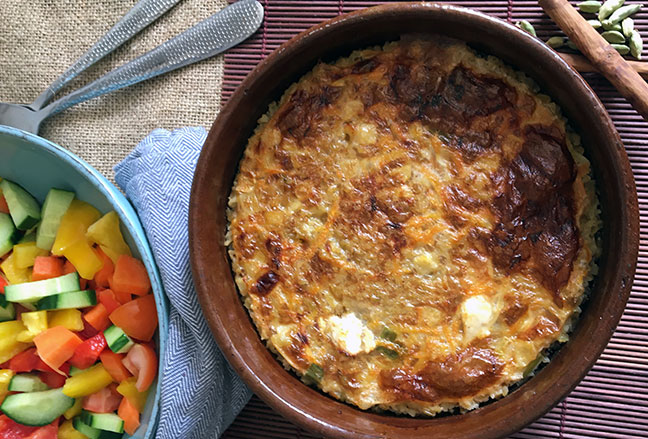 This Freekeh Beraam with Chicken is a perfect comfort dish with all the delicious beraam flavours and spices aroma. It is light and nutritious, without compromising on taste, and will be the star of your dinner party table. This dish is best served with a green salad.
Ingredients
2 cup

freekeh - فريك

1 tablespoon

olive oil (plus an extra teaspoon to grease oven dish) - زيت زيتون

1 large

onion (chopped) - بصلة

1 large

carrot (grated) - جزرة

3 stalks

green onions (finely chopped) OPTIONAL - بصل أخضر

1/2 teaspoon

cinnamon powder - قرفة

1 pinch

nutmeg - جوزة الطيب

2 medium

chicken breast (boiled or from leftover) - صدور دجاج

2 cup

milk - لبن

2 cup

chicken broth/stock - مرقة دجاج

salt and pepper - ملح و فلفل
Step by step
Soak the freekeh in water for one hour.
Rinse freekeh with fresh water and place in a sieve to drain remaining water.
In a pan, heat olive oil. Add onions and cook on low heat until soft. Add grated carrots and chopped spring onions and stir for a couple of minutes then add the freekeh. Keep stirring for a couple of more minutes.
Season freekeh with cinnamon, nutmeg, salt and pepper.
Brush beraam or oven dish with a little oil. Add half the freekeh.
Season chicken with salt and pepper, slice and arrange over freekeh. Finally cover the chicken with the remaining freekeh.
Mix the milk with the chicken stock. Season with salt and pepper if needed, and pour over the freekeh.
Preheat oven to 180C. Bake uncovered for 45-60 minutes until liquid is absorbed and the top of the beraam is golden.