Quinoa Mahshi Mesh Mahshi
By shahdan • February 24, 2018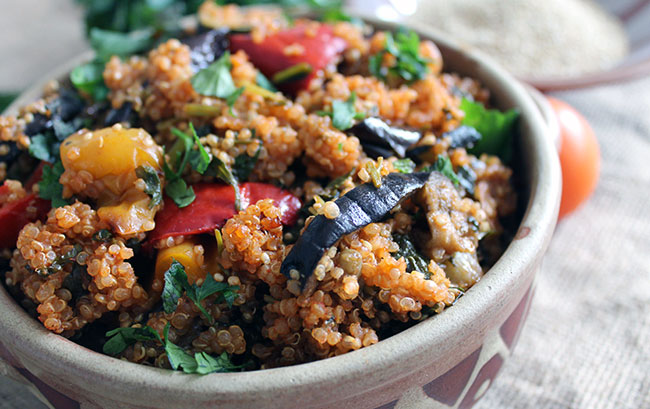 An Egyptian classic with a nutritious modern twist is the best way to describe Quinoa Mahshi Mesh Mahshi. It carries all the Mahshi Mesh Mahshi goodness, cooked with the gluten-free, high-protein, iron- & fiber-rich quinoa! The flavours in this wholesome dish are simply those of a typical Egyptian Mahshi pot with all its fragrant greens and colorful vegetables. Beware that if you happen to live outside of the Middle East, the smell and taste will take you straight back to Egypt.
Quinoa Mahshi Mesh Mahshi is a complete vegan meal on its own. It also makes a perfect side dish served warm next to your favorite roasted or grilled protein dish.
You might also consider adding it to your lunchbox since it can be consumed cold like a salad.
*Recipe ingredients were measured using a 250ml measuring cup.
Ingredients
1/2 kg

eggplant - باذنجان رومي

1/4 kg

bell peppers - فلفل ملون

1/4 kg

zucchini - كوسة

4 tablespoon

olive oil - زيت زيتون

1/2 teaspoon

garlic powder - بودرة ثوم

2 large

onions (finely chopped) - بصل

2 cup

tomato juice (blended & sieved) - عصير طماطم

2 tablespoon

tomato paste - معجون طماطم / صلصة طماطم

2 cup

quinoa - كينوا

1 tablespoon

pomegranate molasses - دبس رمان

1/2 teaspoon

ginger powder - بودرة جنزبيل

1 bunch

parsley (leaves & stalks finely chopped) - بقدونس

1 bunch

coriander (leaves & stalks finely chopped) - كزبرة

1 bunch

mint (stems removed - leaves finely chopped) - نعناع

2 cup

vegetable stock - مرقة خضار

salt and pepper - ملح و فلفل
Step by step
Preheat oven to 200C. To prepare the vegetables, cut eggplants, zucchini and peppers into medium-thick slices. Drizzle with about 2 tablespoons olive oil, garlic powder, salt and pepper and arrange on a baking tray. Place them in the oven, turning occasionally, until roasted and soft (about 30 minutes). If you feel the vegetables are not fully roasted after 30 minutes consider turning on the oven grill for 5-10 minutes.
In the meantime, heat the remaining olive oil in a large pot. Add minced onions and sauté on medium heat until soft (about 5 minutes).
Add tomato juice, tomato paste, and salt and pepper. Lower heat and let it simmer over low heat for 10 minutes.
In a sieve, rinse quinoa with fresh water, and add it to the tomato juice. Cook over low heat while stirring occasionally until it absorbs most of the tomato juice.
Add pomegranate molasses, ginger powder, chopped parsley, coriander and mint (make sure you leave some greens behind for garnish). Stir to combine and turn off the heat.
When the sliced vegetables are fully roasted, stir them into the quinoa pot. Then add hot stock, cover and leave to cook over low heat (about 35 minutes) until quinoa is cooked through.
Fluff up the quinoa with a fork to make sure it is well-cooked. Serve in a large dish and garnish with greens. Serve warm or cold.