Easter Greek Brioche
By yasmine • April 28, 2016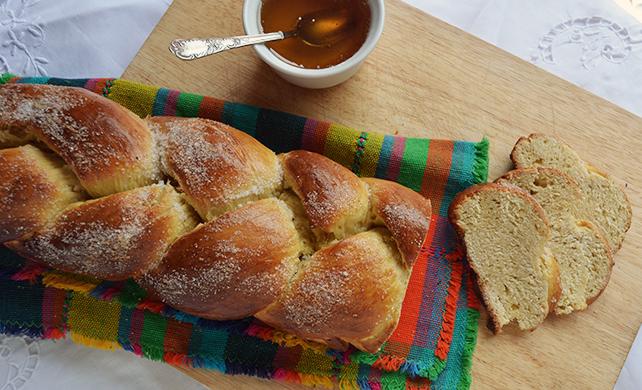 When Sham ElNesseem is coming our way, all I can think of is the smell of my grandmother's Easter Brioche. She had learned the recipe from a Greek friend in Alexandria using fenugreek. After much research, I decided to modernize the recipe and used mastic and orange peel instead. The taste and aroma are just divine.
It is the type of baking that will make you appreciate your grandmother for putting so much effort into your holiday memories and it will also want to make you extend the family tradition to your kids and bake it yearly just for their happiness.
Serve it with homemade jam like this Low-Sugar Strawberry Jam or honey or just dip it in your tea like a biscuit and let it melt in your mouth!
Ingredients
3.5 cup

all purpose flour - دقيق أبيض

1/2 cup

sugar - سكر

1/2 teaspoon

mastic / mesteka (grinded to powder) - مستكة

2.5 teaspoon

yeast (one instant yeast pack) - خميرة

1/4 cup

milk - لبن

1/2 cup

water (warm water) - ماء

2

eggs - بيض

80 gram

butter (melted) - زبدة

1

orange peel of 1 orange - قشر برتقال

Topping:

1

egg - بيضة

2 tablespoon

milk - لبن

2 tablespoon

sugar - سكر
Step by step
Mix the half the sugar with the warm (not hot) water and yeast. Set aside for 10 minutes until it creates bubbles on top.
In the meantime, melt the butter in a small pot on low heat for a couple of minutes. Don't allow it to sizzle. Set aside and allow it to cool.
Sift the flour into a large bowl, and add the remaining sugar, ground mastic and orange peel.
Using a handheld mixer, beat eggs and milk then add the cooled and melted butter.
While the mixer is still on, gradually add the flour, half cup at a time. Let the flour dissolve and watch as the dough become thicker. After adding all the flour, follow with the yeast water. As the dough comes together, stop the mixing and take the dough to clean surface.
Knead the dough making sure all flour is well-combined. You should knead it all over for 10 minutes. This part is very important to help the yeast grow the dough. If the dough is too tough, add some milk or melted butter. If it is too loose, dust it with some more flour. Its texture should be soft, slightly sticky and pulls away from the side.
Butter a large bowl completely and place the dough like a big ball in it. Cover with buttered cling film. Set aside in a warm place for 2 hours to rise. It should double in size.
Ten minutes prior to baking, preheat oven to 180C. Line a large oven tray with parchment paper.
To create an easter braid, divide the dough into 3 parts. Roll out each part on a clean surface into identical thick ropes. Stick one end of all three ropes to each other. Loosely braid ropes together then pinch the other ends to seal. Place loaf diagonally on baking tray and in the middle of the oven for 15 minutes.
In the meantime, mix the egg and milk topping. After 15 minutes, take out your Easter bread, brush it with the mixture all over then sprinkle sugar on top. (If you plan to add colored Easter eggs, now would be perfect to tuck them into the braid openings). Place it back in the oven for another 15 minutes. If it is not nice and golden, put the broiler on for 2 minutes.
Let it cool for about 15 minutes before you dig into it. Slice it upon serving like toast bread and serve it with honey or jam or just toss it into your tea!