Delicious Breakfast: Millet Porridge with Dates & Blueberries
By Passand El Hammami • October 1, 2015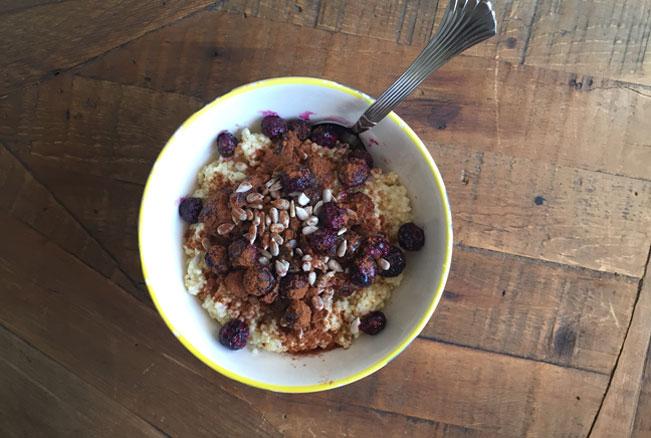 Millet has replaced oats in my book for some time now. I love the texture of it, it tastes more like quinoa yet without the bitter nutty after-taste (maybe it's just me who tastes that)!
Millet is also a very good source of nutrients, vitamins and minerals. It is gluten-free yet filling, and keeps me energised for hours after breakfast!
In terms of basic food staples that are praised as the simplest and most valuable additions to diets around the world, millet provides the most energy, as well as the most fat and B-vitamins.
This recipe is by Passand El Hammami from the Sea Salt Bakery.
Ingredients
1/2 cup

millet (dry & uncooked) - حبة الدخن

1 cup

water - ماء

3-4 piece

dates - بلح

1 handful

sunflower seeds - بذور عباد الشمس

1 pinch

cinnamon powder - قرفة

1/4 cup

blueberries - توت أزرق
Step by step
Rinse Millet through water 2-3 times to get as much starch out as possible.
Add millet to water and bring to boil on the stove for 9-10 minutes.
Remove from heat, place into serving bowl, add the rest of the ingredients & enjoy! Simple & delicious!