Blue Cheese Roasted Figs
By yasmine • March 29, 2015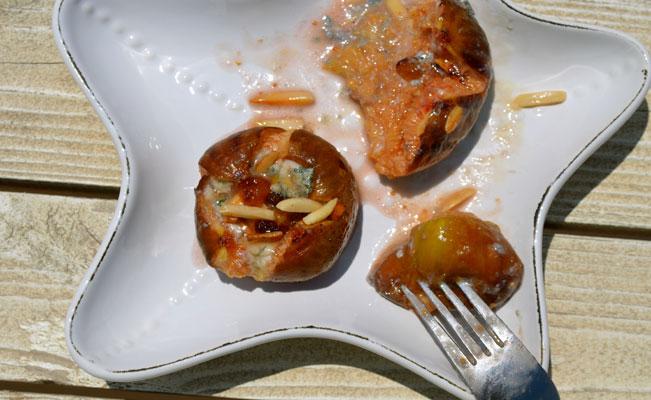 Figs season is here and its time to get creative!
This is a great sweet and sour recipe for those who appreciate these tastes. My friend made me a fresh fig and blue cheese sandwich last summer and since then I have been baking this and adding it to salad or bread and serving it as an appetizer! The combination of figs and blue cheese is sweet and pungent, and always exciting to guests who are even weary of blue cheese.
Ingredients
1 kg

figs (preferably not too soft) - تين

150 gram

blue cheese - جبنة ريكفور

2 tablespoon

pine nuts (OR walnuts) - صنوبر

1-2 tablespoon

cream cheese (to taste) - جبن كريمى
Step by step
Wash the figs thoroughly and cut off the bottom tip so you can have it stand on the tray without leaning.
In the upper part of the fig, make one vertical and one horizontal incision 1/3 of the figs deep so that it is open like a plus sign (with enough space to add 2 teaspoons of blue cheese).
Stuff the figs to the inside with the cheese with little cheese peaking on top. You can mix the blue cheese with cream cheese before stuffing to dilute the pungent effect of the blue cheese (however blue cheese alone makes the taste so much better).
Preheat the oven to 180C and brush an oven tray with olive oil.
Line up the stuffed figs on the tray and put them in the middle of the oven for around 15 minutes – when the cheese has melted.
In the meantime, toast the pine nuts or walnuts in a small pan for 2-3 minutes until they brown a bit.
Take the stuffed figs out of the oven and let them cool for a couple of minutes before you move them over a rocket salad or some brown toast.
Make sure you keep all the juices in the pan – after serving, use a tablespoon to spread the juices over the salad, figs or toast – this is where all the taste is. Throw some toasted pine nuts or walnuts on top for some crunch.