Date & Almond Balls
By yasmine • June 22, 2016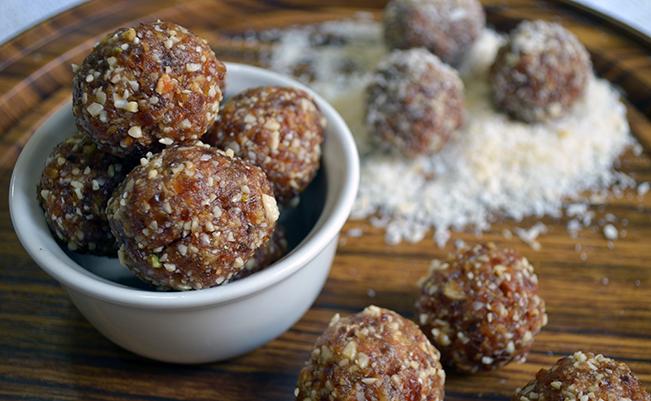 These date & almond balls are a perfect sweet snack to when sugar rush strikes! It is also the perfect energy bite pre-workout…
Also, your kids will enjoy it as a healthy sweet treat in their lunchbox or before their exercises.
I even give one to my toddler whenever he doesn't finish his meal, to give him needed nutrition and fill him up.
Ingredients
1/2 cup

almonds - لوز

1 cup

dates (deseeded - preferably Majdoul) - بلح

2 tablespoon

cocoa powder - بودرة كاكاو

1 tablespoon

flax seeds (OPTIONAL OR wheat germ) - بذور الكتان
Step by step
In a food processor, grind raw almonds with flax seeds (if using any). Add the rest of the ingredients and blend for a minute. Dough should become slightly sticky.
Take about 1.5 tablespoons from the dough in your hands and form a ball between your palms. Repeat with all the dough. You can also roll the balls into coconut flakes if you like to.
Line the balls on a tray or in a fridge box and place it in the freezer for an hour before serving. You can store it in the fridge after that for up to 2 weeks.