Dark Chocolate Almond Clusters
By shahdan • October 28, 2018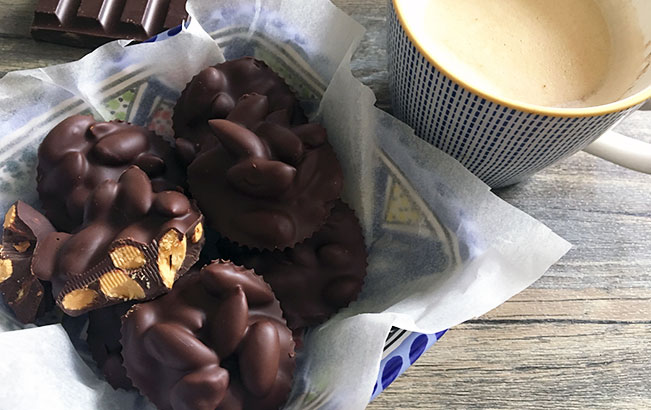 These heavenly Chocolate Almond Clusters will be your new favourite treat… and all you really need is good quality dark chocolate and raw almonds.
Ingredients
200 gram

almonds (unpeeled & unsalted) - لوز

250 gram

dark chocolate - شوكولاتة غامقة
Step by step
Arrange almonds on a baking tray. Roast in a 170C oven for 10 minutes (you will smell a roast nutty aroma when they are ready). Take out of the oven and leave to cool.
Roughly chop chocolate and place in a bowl. Place the bowl over a pot of simmering water and let it slowly melt (making sure the bowl doesn't touch the hot water).
When 90% of chocolate has melted, remove the bowl. Gently stir until all chocolate has melted.
Add roasted almonds and stir.
Arrange 12 cupcake paper cases on a tray. Place one tablespoon of chocolate-almond mixture into each case.
Place tray in the fridge for an hour or two for the chocolate to set, then devour with your favourite tea or coffee. Keep it refrigerated.