Light Sharkaseya & Chicken Dish
By Reeham Shaker • June 20, 2016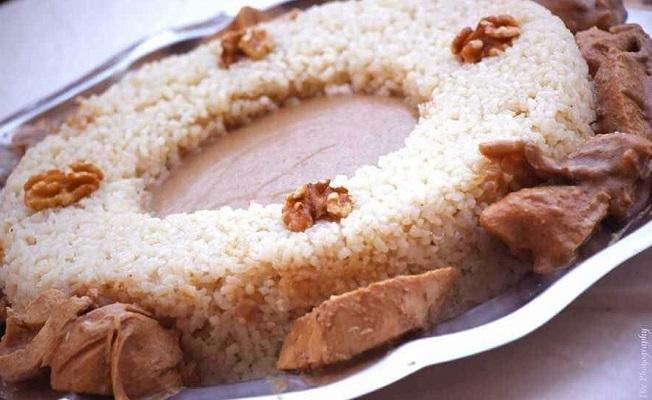 This is a simple and straightforward (and light) recipe for traditional Sharkaseya…
Recipe by Reham Shaker.
Ingredients
5

brown toast (edges removed) - توست أسمر

2 1/2 cup

walnut (300 grams) - عين جمل / جوز

4 cup

chicken broth/stock - مرقة دجاج

3/4 tablespoon

garlic (minced) - ثوم

2 teaspoon

dried coriander - كسبرة جافة

1/2

salt - ملح

2 teaspoon

oil - زيت

1/4 cup

skimmed milk - لبن منزوع الدسم
Step by step
Soak brown bread in milk (milk has to cover it).

In a food processor, grind walnuts until finely chopped. Add soaked bread to it and blend again.
Gradually add stock while blending until the mixture is smooth and creamy.
Tip the creamy mixture into a large saucepan and add any remaining broth to it. Add salt. Let it simmer for 10-15 minutes over medium heat until thickened. If the mixture gets too thick, you can mix in more stock or water.
For the garlic mixture: Heat 1 tablespoon oil in a small pan, add garlic and coriander and stir for 2 minutes making sure the garlic browns but does not burn. Add garlic mix to the Sharkaseya sauce and stir.
Serve warm with boiled chicken pieces and rice.